Pembrokeshire Coarse Fishery
02.01.2016
December has been more quiet than usual. Weather has been the worst I can ever remember, wet and windy every day so it is little wonder anglers are not venturing out. However the fish are moving about and feeding happily no doubt due to the unseasonal warm weather. I hope that we will see you return fishing very soon and in the mean time I wish you all a Happy, Healthy New Year .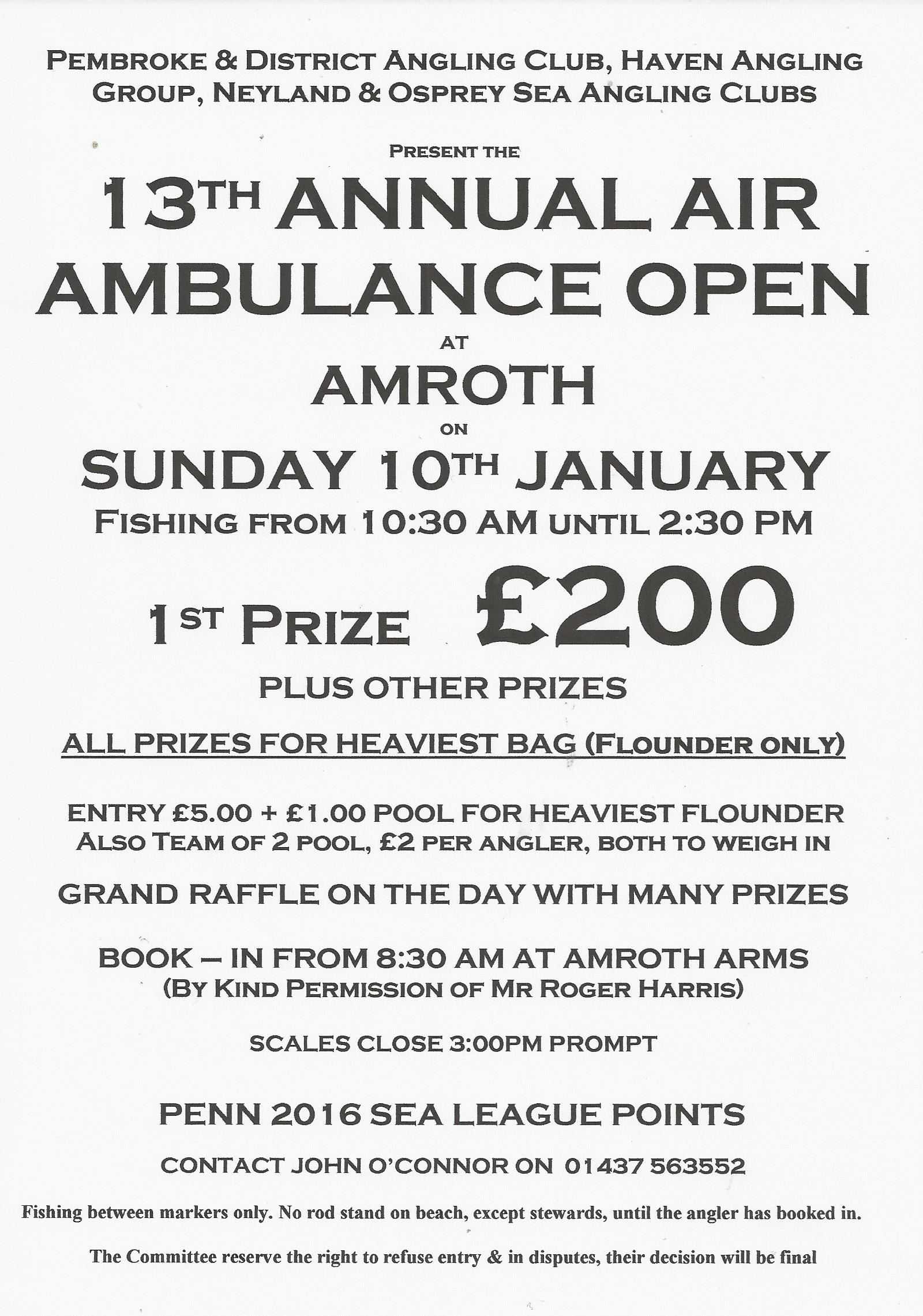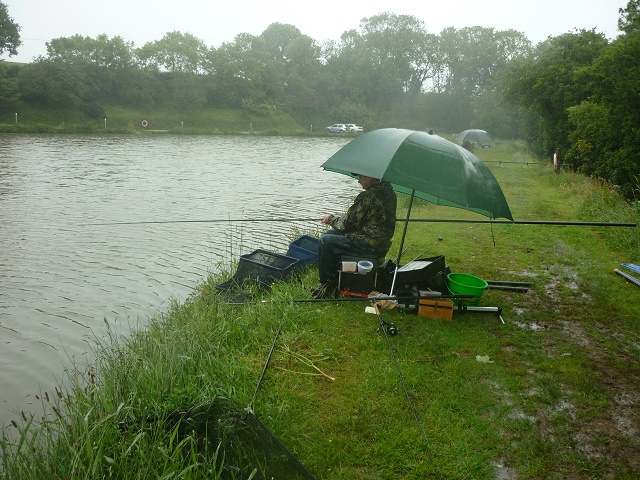 The Pembrokeshire Piscatorial Match proved to be a good battle between Chris and Jonathan today. Chris the eventual winner with 12.6 kilos Jonathan just few grammes less came second. All anglers weighed in and left happy chappies.

Has been a quiet couple of weeks with anglers having decided that with this weather it is a good time to store the tackle ready for next year. It is advisable to check you tckle and bait boxes and clean out any old bits that are lying hidden in there. Remove all old hooks from the box, Line on the reels should be checked possibly taken off and carefully disposed off. I find that cutting it up or burning it in a safe conmtainer works well. Wipe down the rods and above all wash and try and air dry your nets.
We have a match on the 6th December which will be the last match of 2015 for the Pembrokeshire Piscatorial's. I will post the results as soon as I have them.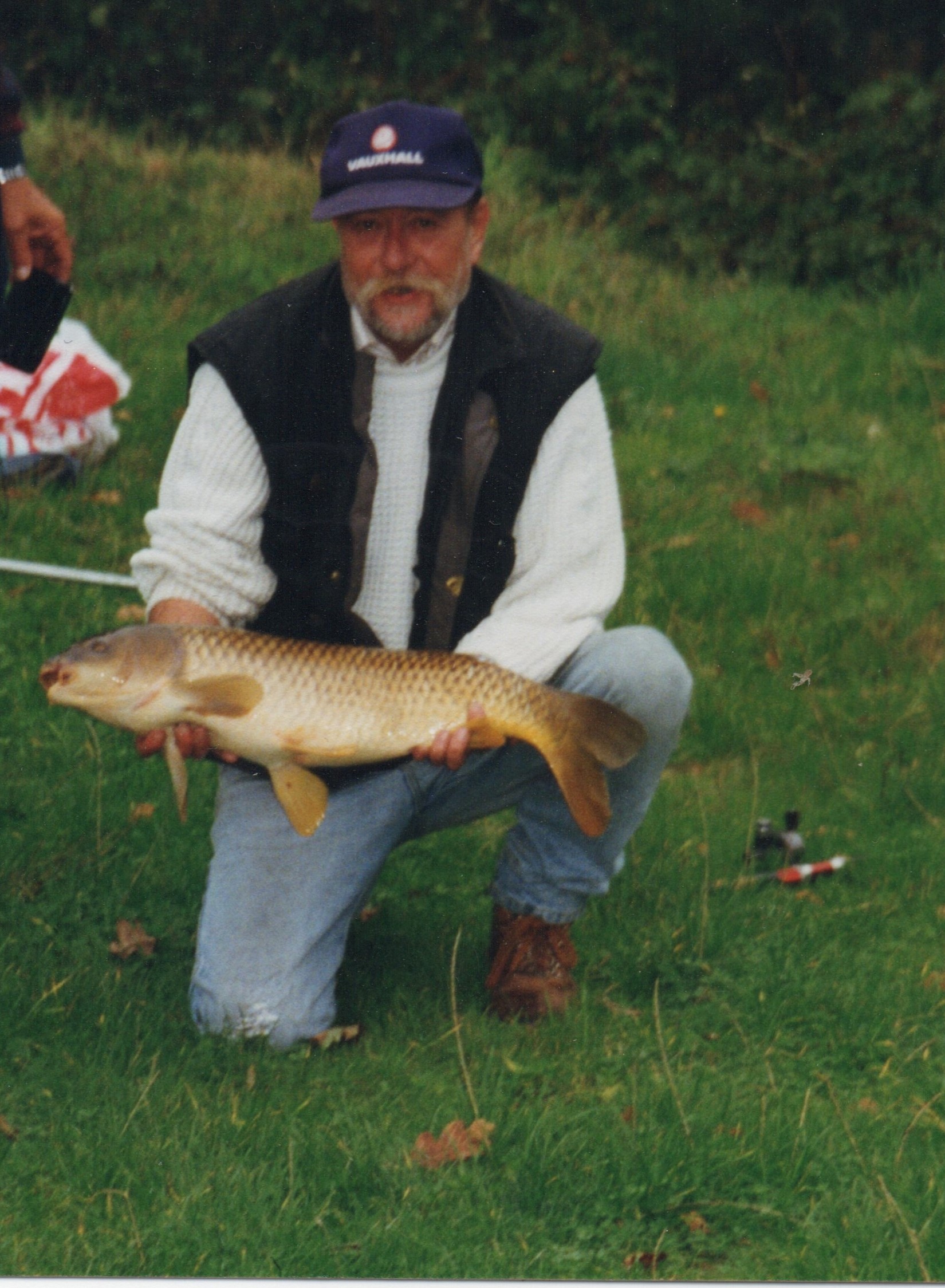 This is an old picture of a character who fished here when we first opened in 1984. He once held the lake record then 15lbs (not this picture), from that moment on every time he telephoned me he would introduce himself as " Ed, who caught the big one" . Sadly this lovely man is no longer with us , I miss our chats putting the world to rights.
The bit below has been cut and paste from our feedback page.
Just to say "thanks" again for a great day of fishing (despite the dreadful weather) at your lovely fishery today. What with the weather conditions today ...and it being my first visit ... I`m really pleased with the nice carp and pile of nice roach and rudd I caught.
Sorry about the umbrella that launched itself into your lake. The things some anglers will do to get a new umbrella !!"
Regards,
Mike (Pennard, Gower, Swansea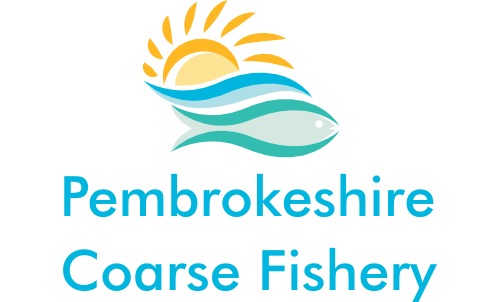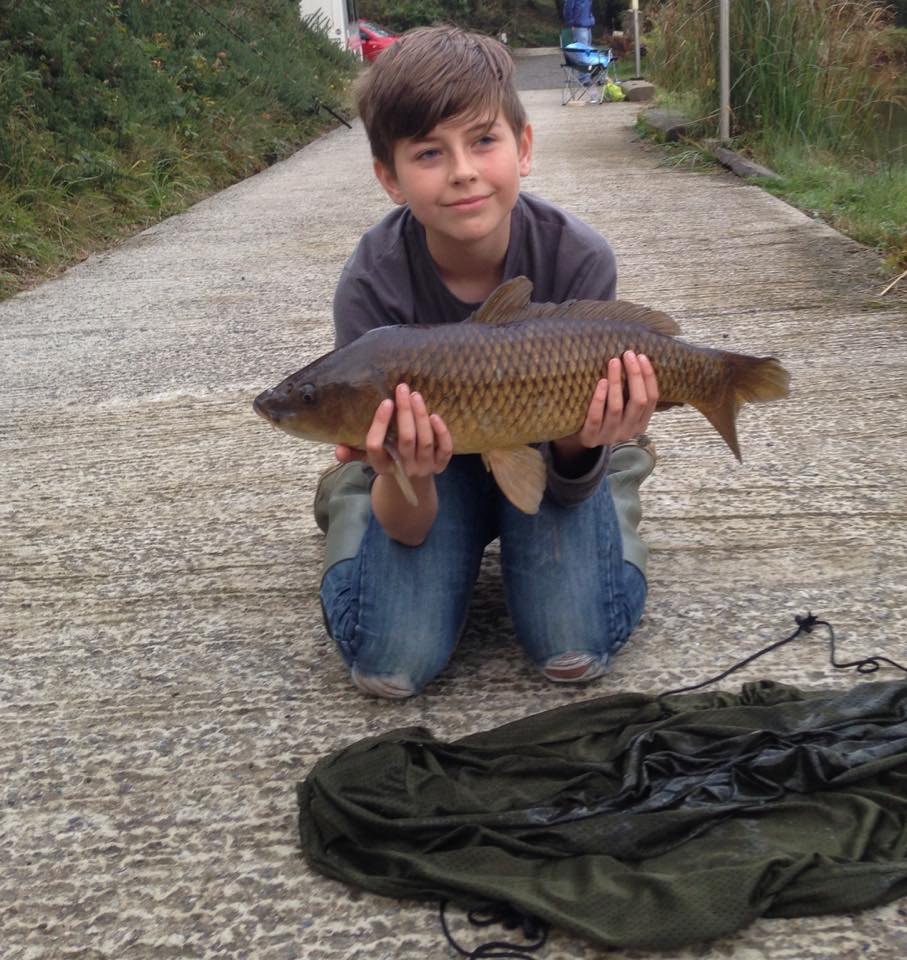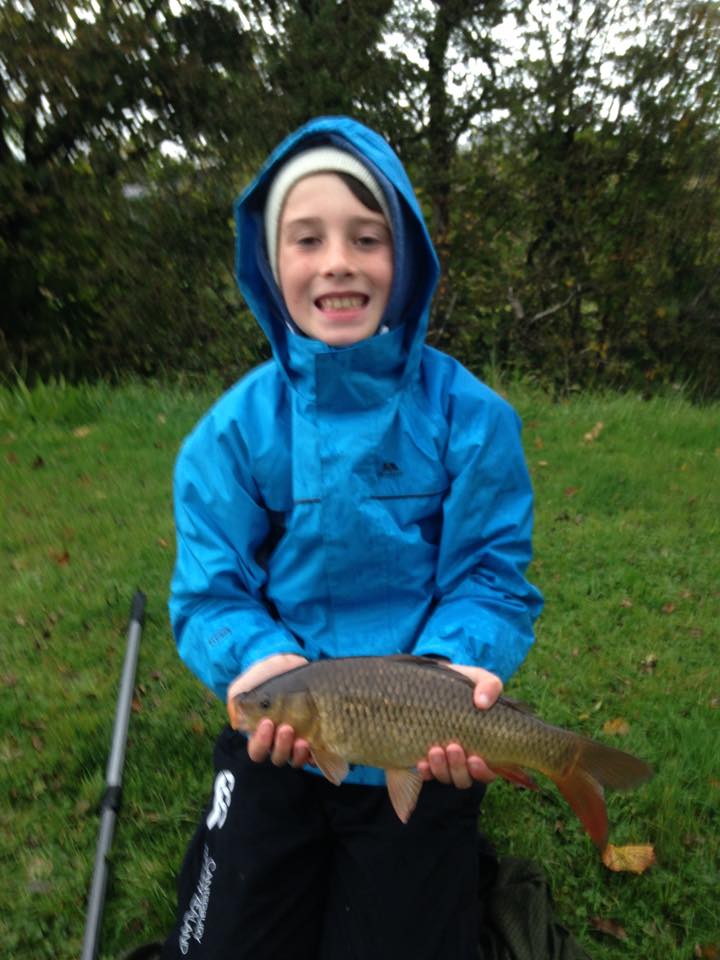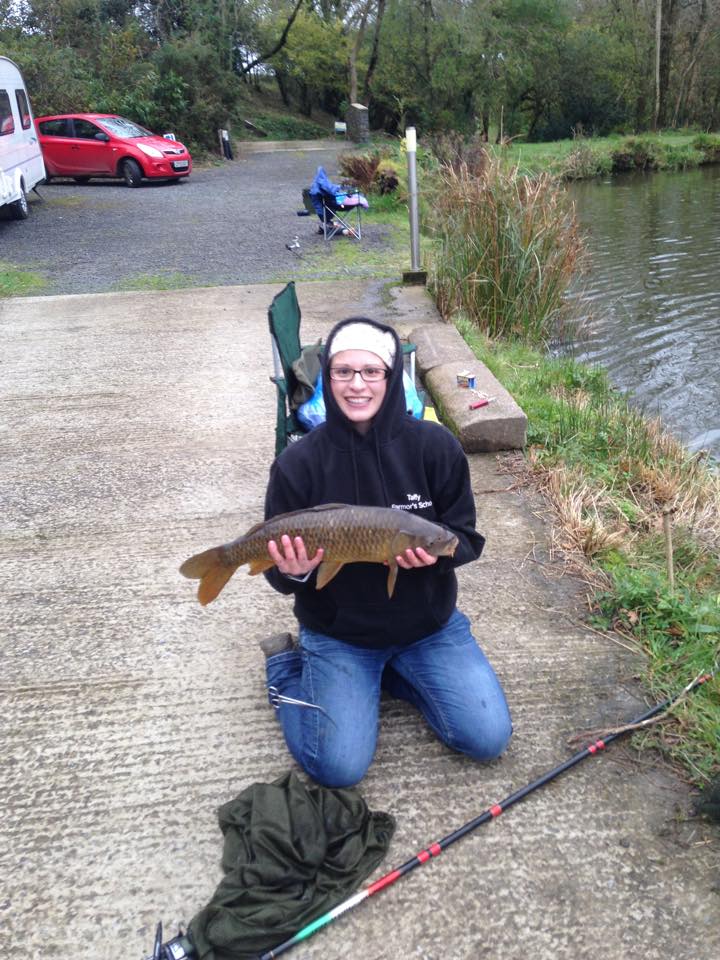 Not a bad week with some good and some quieter days . I did not hear of anyone who had not caught anything and several reporting numerous catches. Today on the top lake Terry and Mark said it was quiet before lunch but the bites and catches picked up a lot as the sun warmed the water. It was tee shirt weather today, so no wonder anglers are having difficulty in deciding on which tactics to use.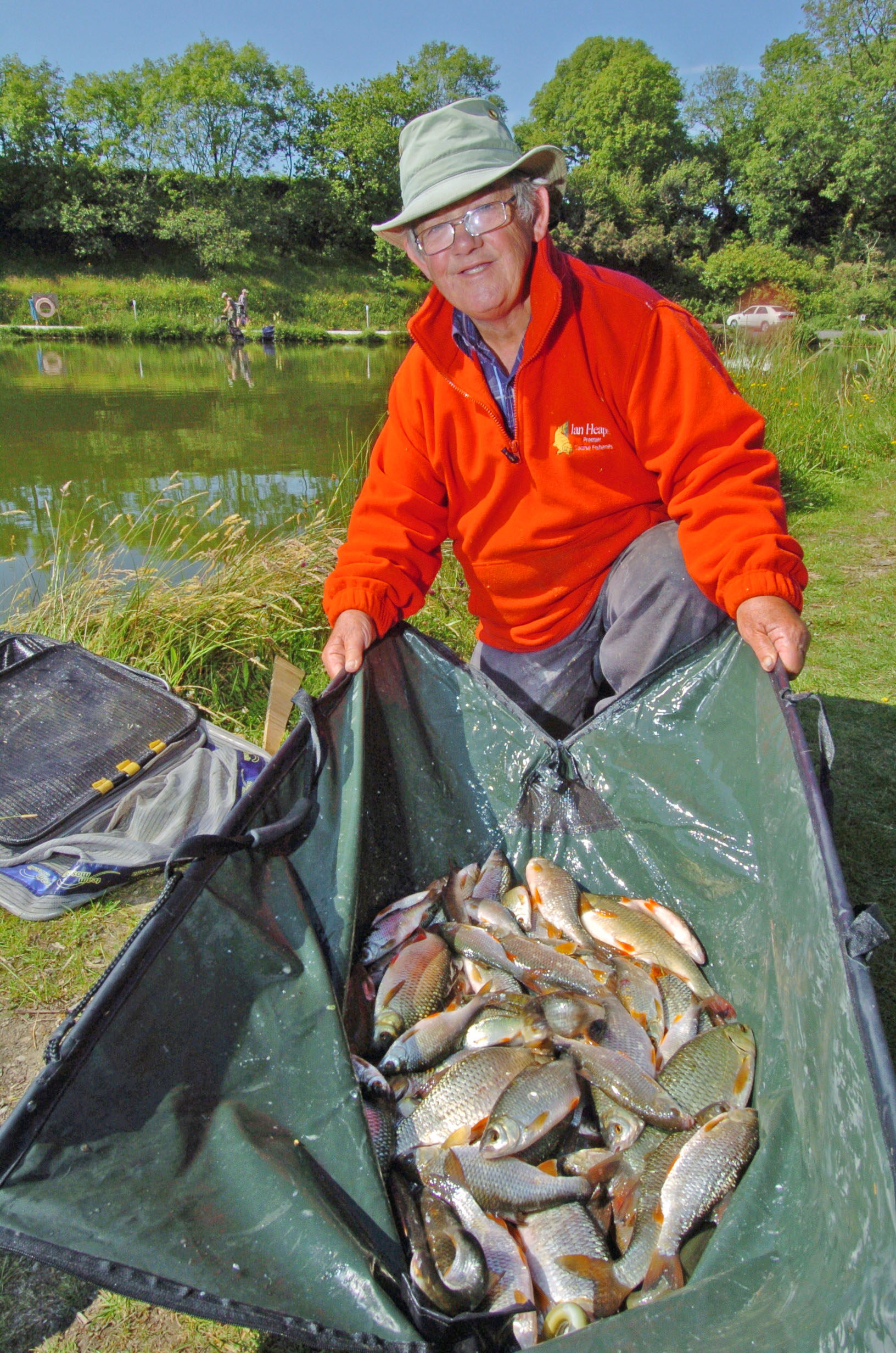 Yesterday's (Sunday) match. The was a good frost over night which made it a slow start for the first hour of the match. Thereafter there were some excellent silver roach caught and the carp were still feeding well. Mark Close won with 22.7 kilo. Paul Ellis 2nd with 18 kilo and Brian Hammond 3rd with 14.1 kilos.
The top lake also fished well with several carp being caught and indeed lost with the anglers failing to keep them out of the Lilies.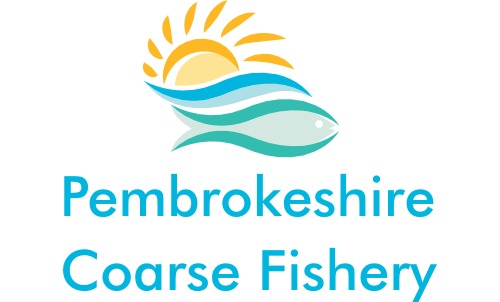 If all anglers are giving me correct numbers we have had over 40 carp this weekend. Archie and James caught steadily all day on Saturday. James also spent another successful few hours here today. Even Graham caught well this morning . I say "even" as he has struggled all year catching fish. Maybe it was the change in his method that brought about the result today! Nothing of any size though his biggest was 7lbs. In general oover the last month it has been excellent fishing. September is always a good month but the lovley late summer weather has certainly had a positve effect of both fish and anglers. The picture below is a grass carp 26.5 lbs that Dia Woods caught in the summer. This picture won him a prize from the Anglers Mail. Please send your to me and you couls also be in with a chance to win a prize.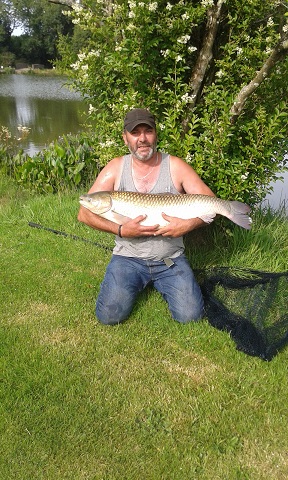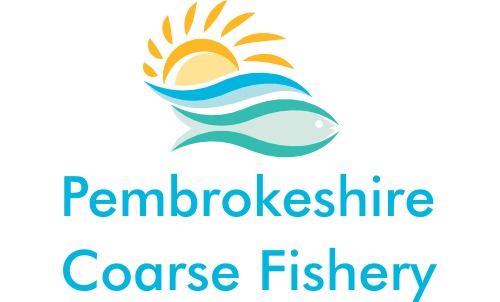 Over the last week both lakes have fished exceptioanlly well. Mark as mentioned in a previous comment returned several times and ended his holiday stint with over 60 carp.
Dave Rook and his mate did a weekend night session and pulled their rods in during the early hours just to get some sleep. This patterned continued the following Thursdaywith another night angler who also pulled his rods out of the water to get some kip.
The results of Sundays match helld on the fishery as sent to me from the Pembrokeshire Piscatorial Club.
Pembs wrote: "6 hours of sitting on a hard box and endurance test of holding a 14m pole didn't compare to that of the iron man challenge well done all. The match was at Llyn Carfan Tavenspite. Another interesting match with rain over night changing normal tactics. Jonathan Davies won with 33 kilo of carp taken mostly On single castor at 5m. 2nd was Chris kidd feeding ground bait and dead maggots and fishing paste over the top with 19 kilo. Joint third was Paul Ellis and Steve Harrison with 11.5 kilo.
I have added a poster of the Osprey Open held at Amroth for all you sea anglers out there.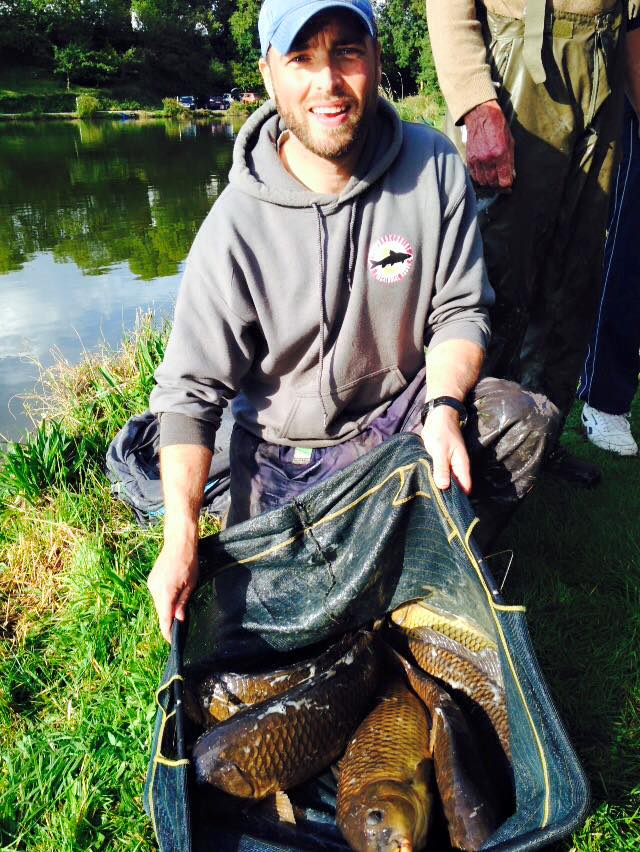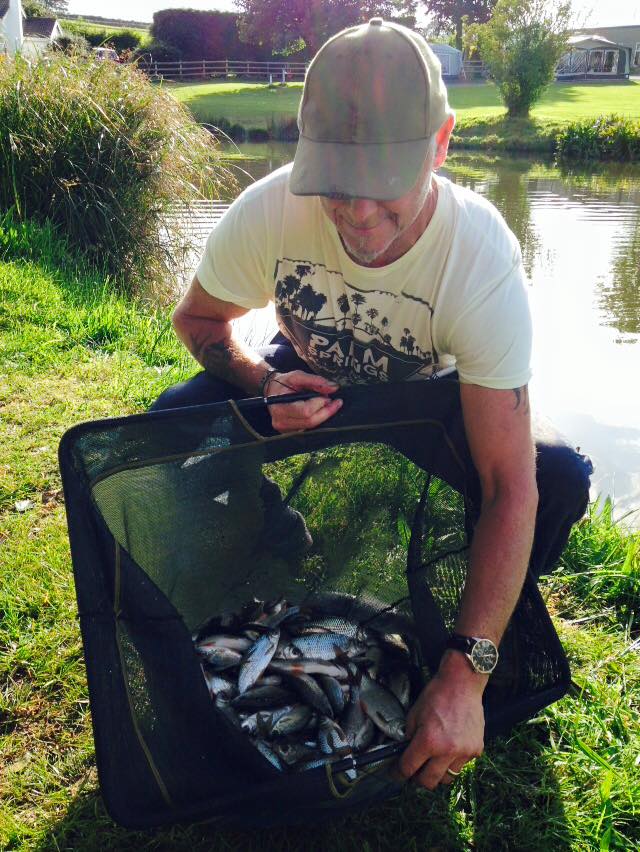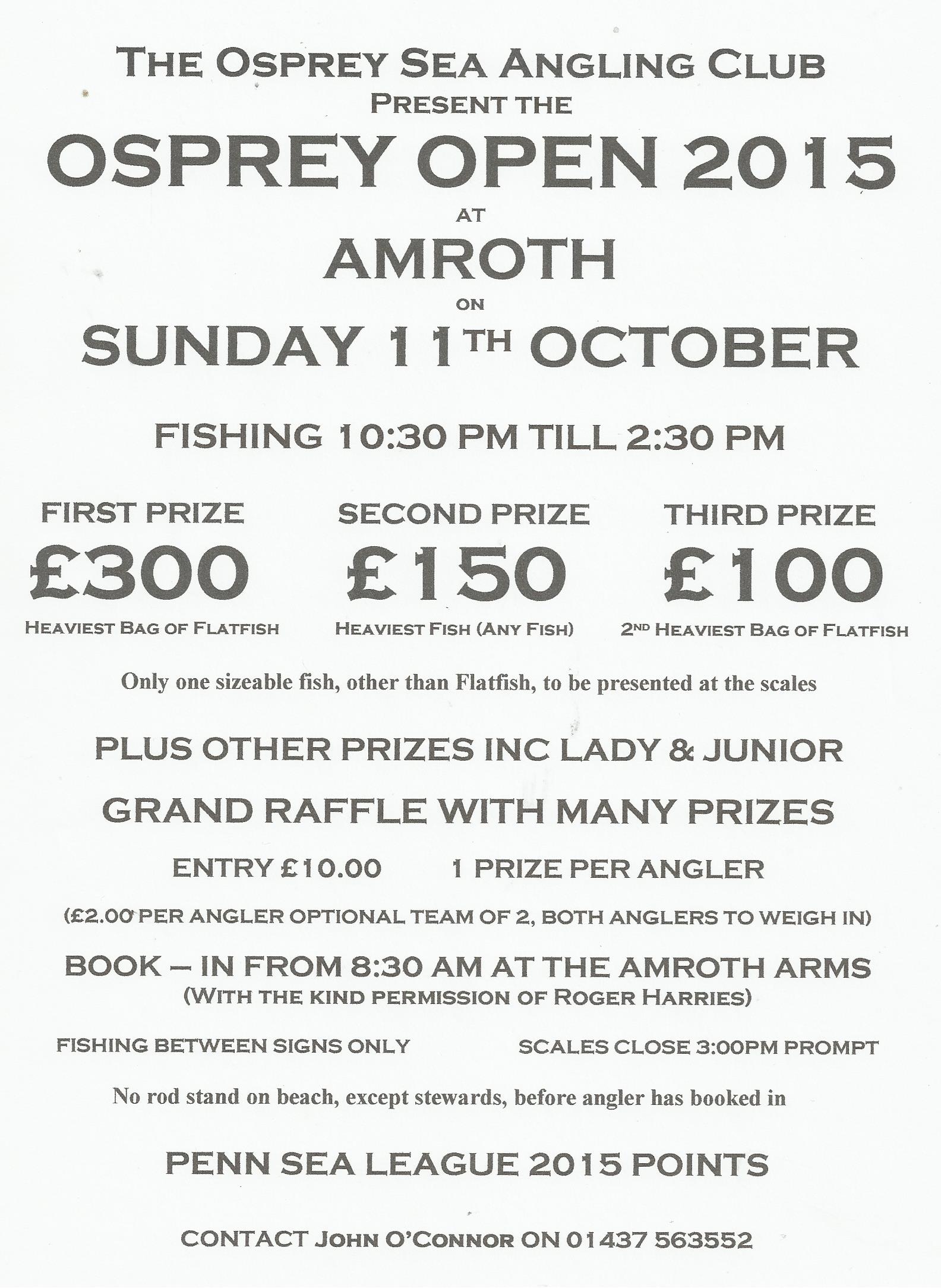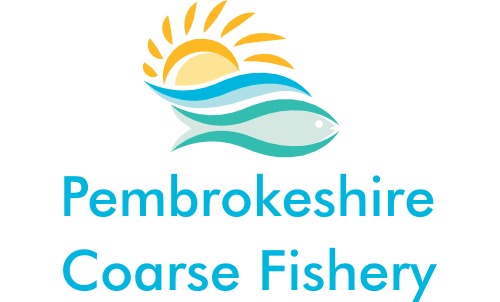 Great fishing over the last week or two, at least two grass carp over 20 lbs . The first being 26.5 and the second 24.5lbs. There were numerous carp caught over the last weekend . Weather conditions were challenging with heavy and persistent rain. Young David however has also had a good couple of sessions using the fishery hire rods. In all last week he landed over 20 carp the biggest into double figures and none under 5 lbs.
These were caught using a simple waggler float and fishing close to the banks.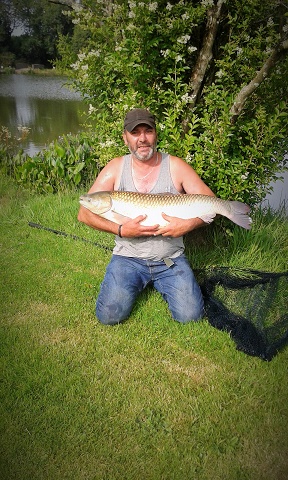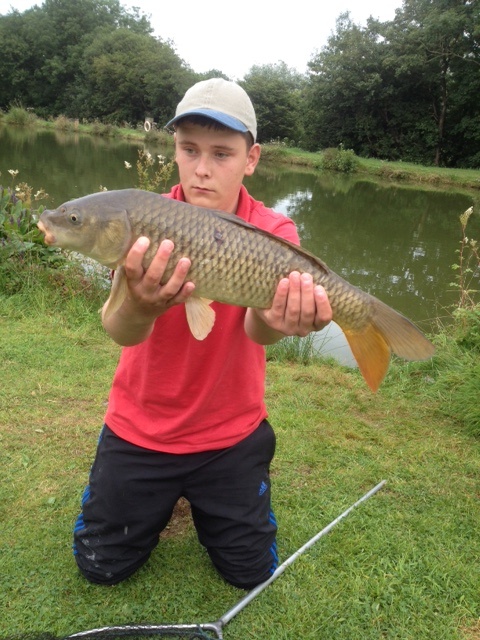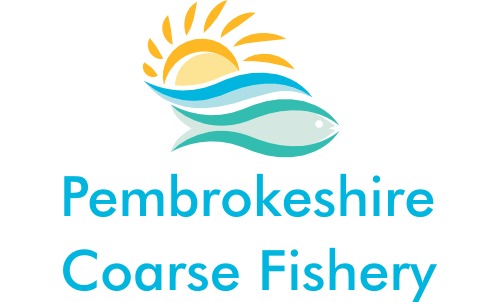 Todays (2nd August 2015) Pembrokeshire Piscatorial match had a winning weight of 27.7 kilos. All anglers weighed in and left happy.
Another Grass carp caught yesterday (Sat 1st August 2015) at over 26lbs , I have been promised a picture I will post when it arrives.
I also received the following message from regular Anglers Sue and Garry. Again after a session on the 1st August.
"
Had the best days fishing ever at Pembrokeshire Coarse fishing - (Huw John ) caught 13 carp - (which beats my record of 12)- the biggest was 16lb 7oz - Gary Brumby managed 4 carp - he was too busy netting for me to catch many himself, lol, - fab day, fab weather thank you hubby xx"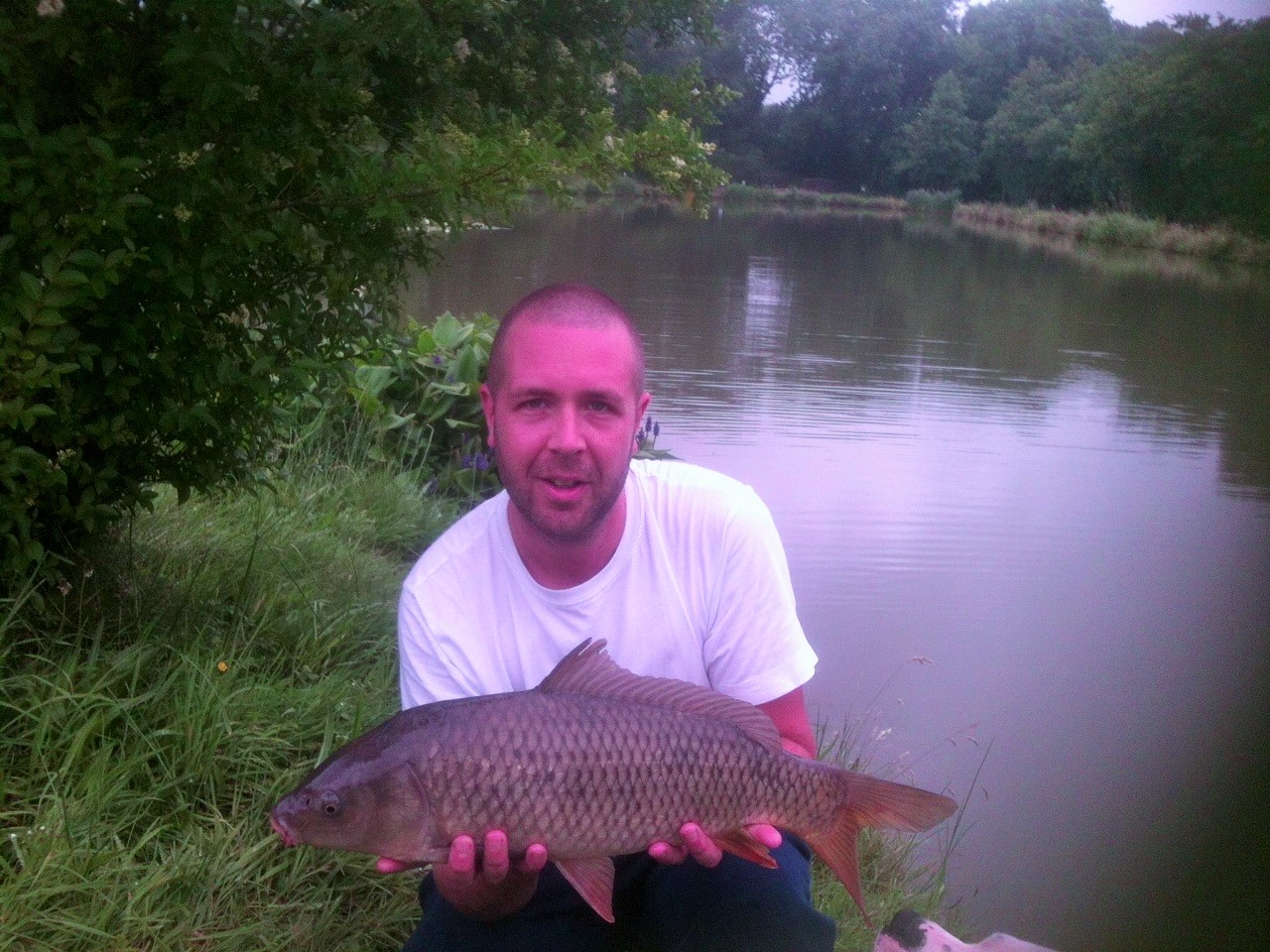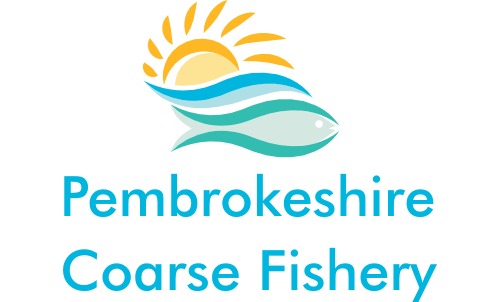 Plenty of fish been caught , today a pleasure angler caught 197 fish mainly Roach and Rudd along with several Perch. This was on the top lake.
The weekend produced a lot of carp nothing over the 12 pound mark but still good fighting fish . All clean and in excellent condition.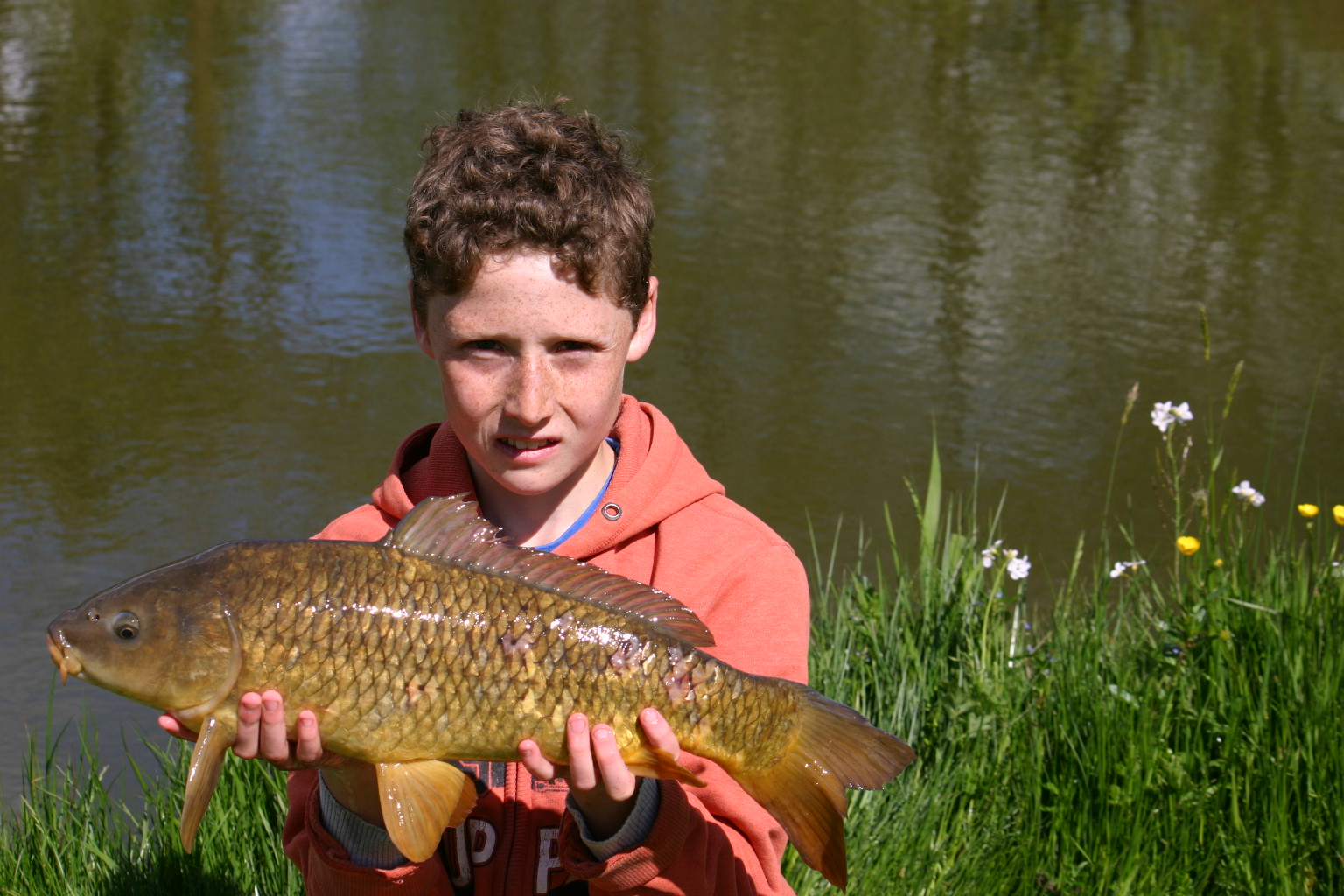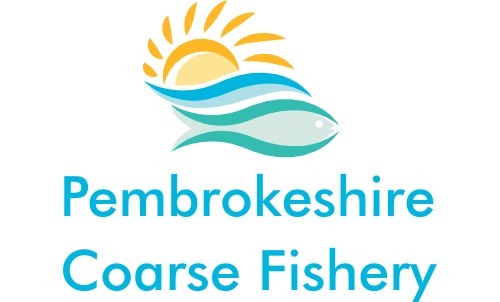 Great fishing carp been caught from every peg today. These two caught all day must have had over a dozen between them. Largest carp so far this week 16 lbs.
Dan and Mathew having a good day.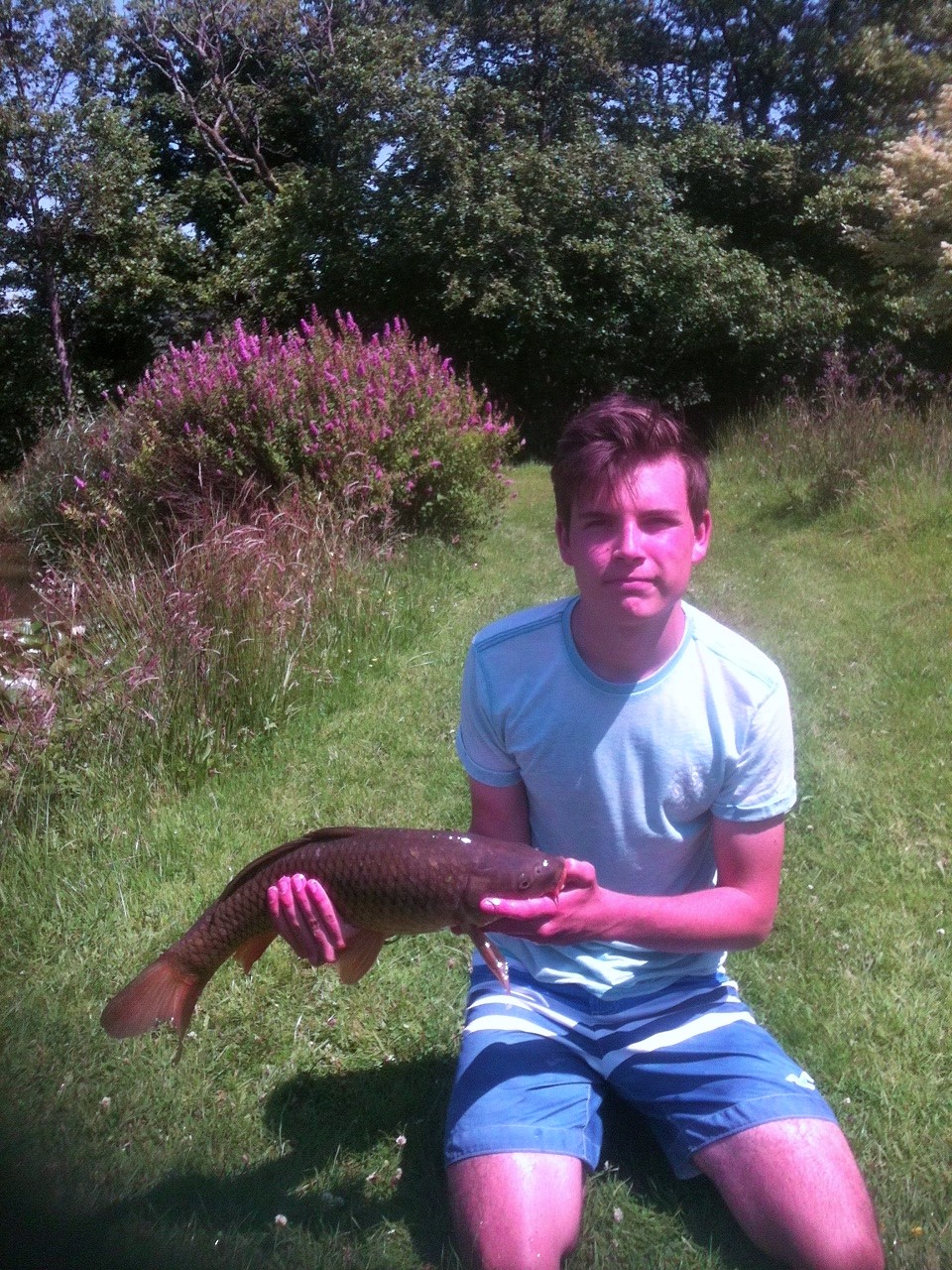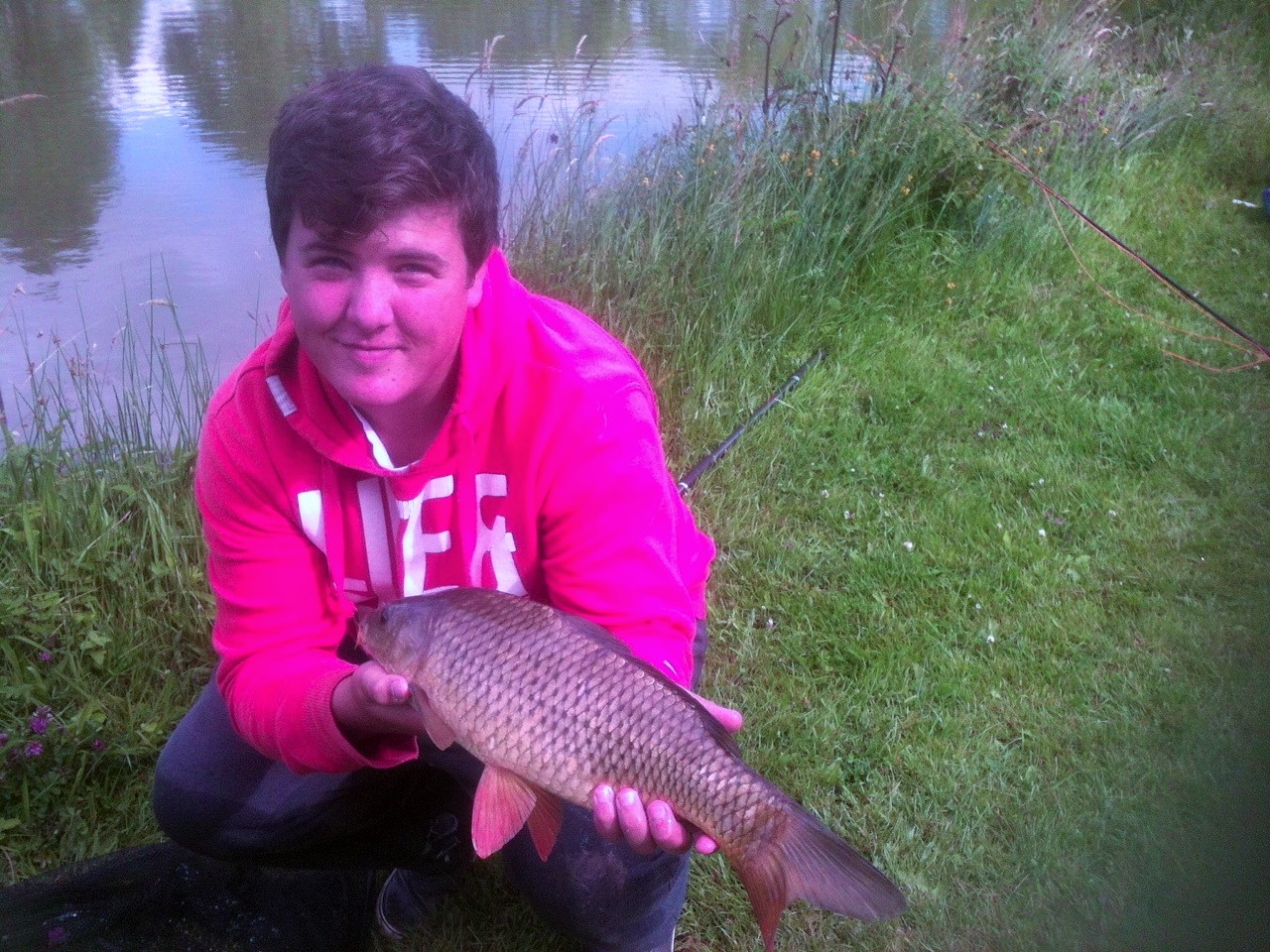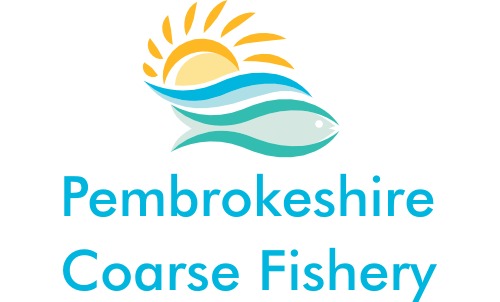 Dave had a good day on the top lake today (Sunday 12th July) . He lost count of the number of carp he caught. Nothing huge but he was very impressed with the quality and fight they gave him.
Several double figure carp to 16lbs caught during the week, and a two pound tench came out of the bottom one again . The silver fish anglers also reported good numbers and quality catches.
Pembrokeshire land mark in the picture is Manobier Castle - within easy driving distance.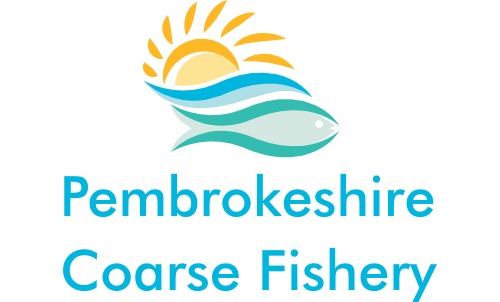 Fished well here over the week with several carp caught. The night anglers had a great time catching carp through the night.
Carp have been usual sizes up to 12 lbs with the biggest I heard of this week just over 15lbs.
Young Archie had his best Saturday for a while with at least four carp the biggest 9lb. (The carp Archie is holding in the picture is from a previous visit.)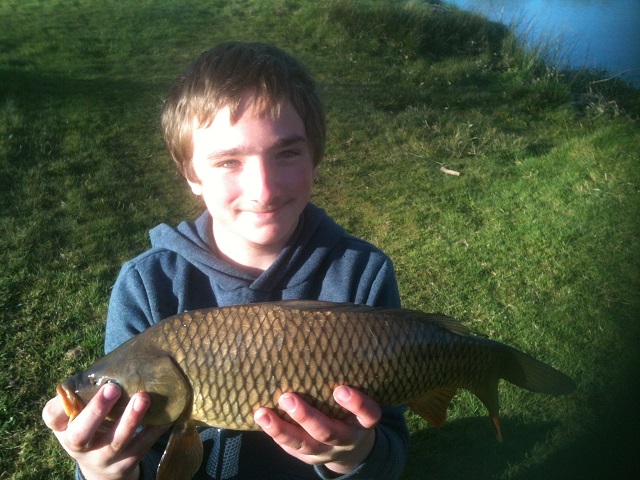 01.07.2015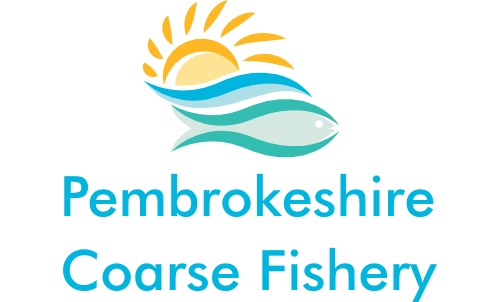 The fishing has been mixed over the last few days. There are plenty of fish being caught , both carp and silver fish. There is also the odd tench and small perch coming out. The very hot humid weather has put the carp down ( it seems anglers are never happy with the weather) and only in the evening are they starting to cruise the margins again. Picture is the last fish of the day 30.06.2015. The angler was also broken three times prior to landing this one.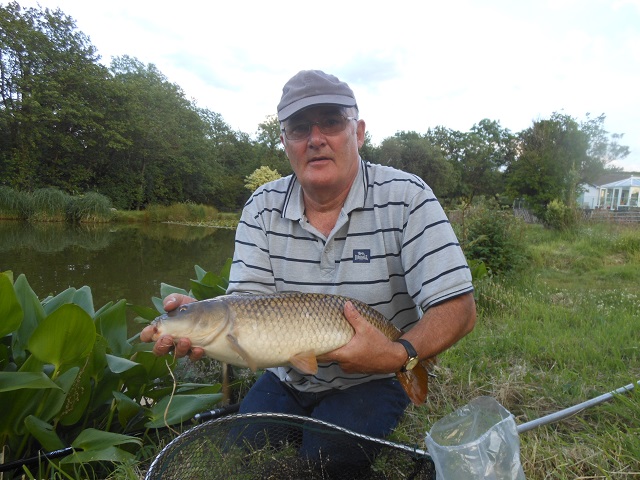 22.06.2015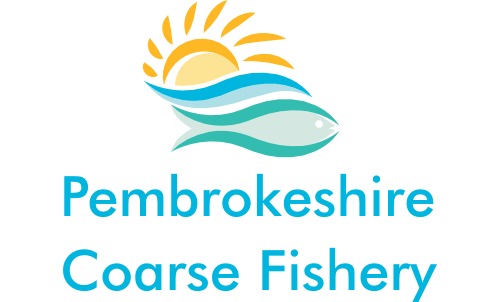 Both lakes continue to fish very well. Carp are caught on a regular basis although anything over 16 pounds are few and far between. Its not that they are not here but many people just fail to land them. Silver fish are as usual plentiful with many over a pound getting caught frequently. Perch on the top lake again up to about a pound in weight. Pictures are of some of Pembrokeshire scenic views, we are only 5 miles from the nearest beach and the start of the Pembrokeshire National parks.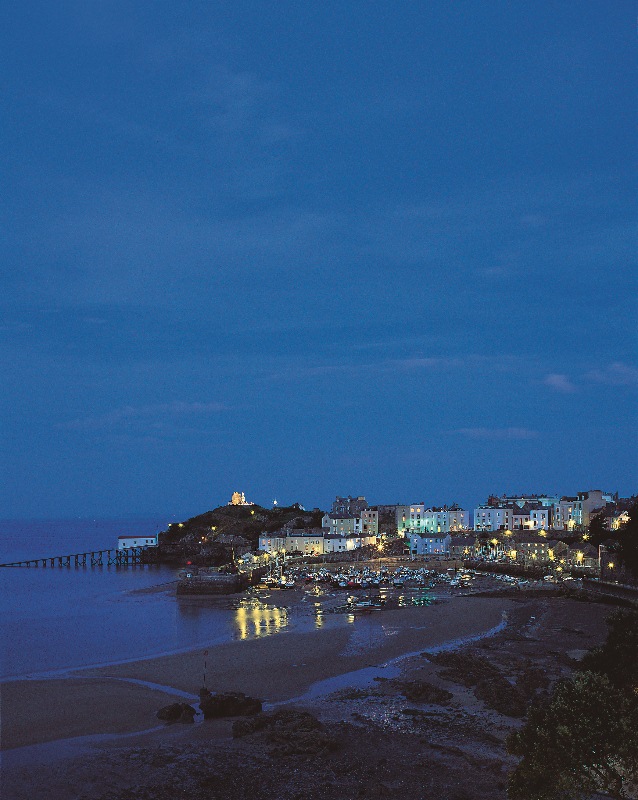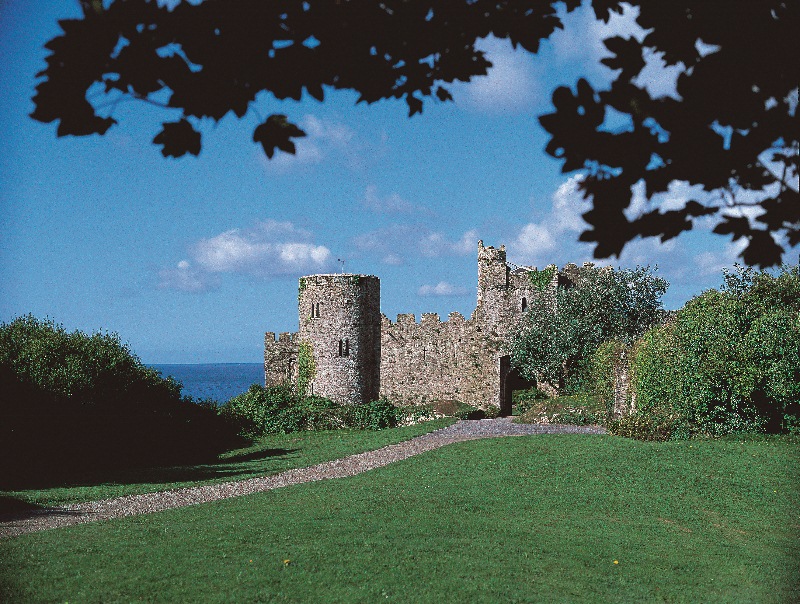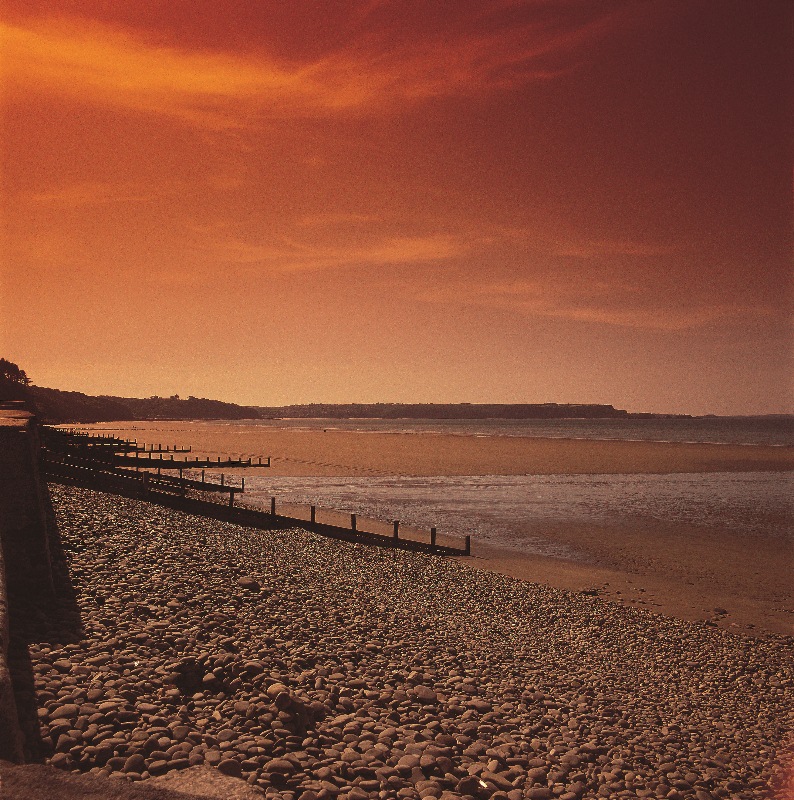 16.06.0215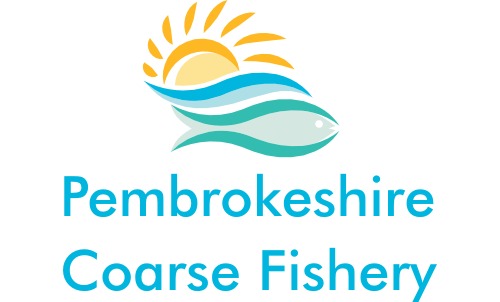 Fishing has been mixed over the last two weeks due to some spawning and some strange weather patterns going fromn hot to cold to and then a deluge of water from the stream cooling the water surface,sending the carp deeper. There has however being some good catches reported with Carl the top weekend fisherman.On a day session taking 15 carp witht eh largest 15 lbs .7 ozs, the rest were from 5 to 10 lbs. He feeds a bed of hemp and sweet corn to get them feeding . Fishing luncheon meat or pellet on a hair rig over the top of it.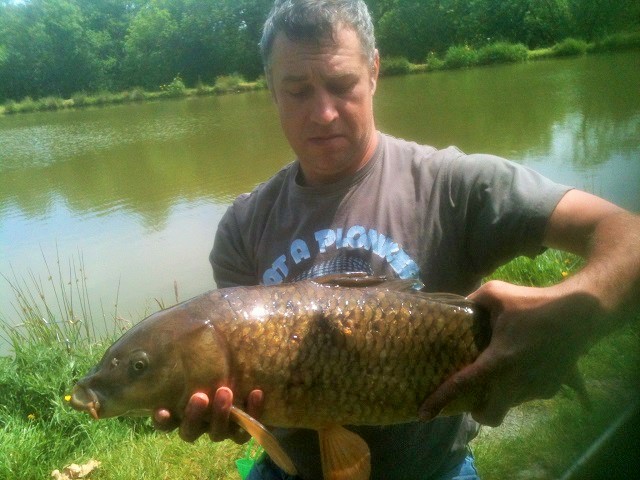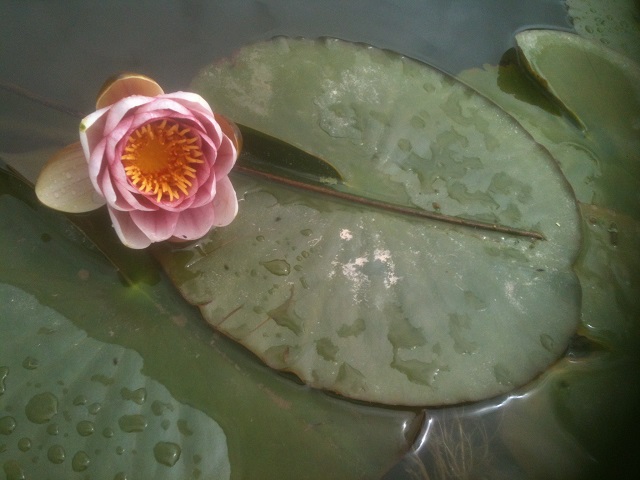 31.05.2015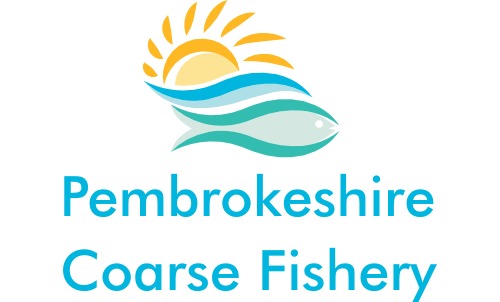 It has been a quieter week on the carp front , I put this down to the fact that the weather has once again turned decidely chilly. The carp had started to spawn last weekend, this cold snap has put that on hold which unfortunately also effects that catch return rate. That said there have been many carp caught but nothing of any size 10lb fish about he biggest.
There has been numerous large roach and rudd caught the quality so far this season has been terrific.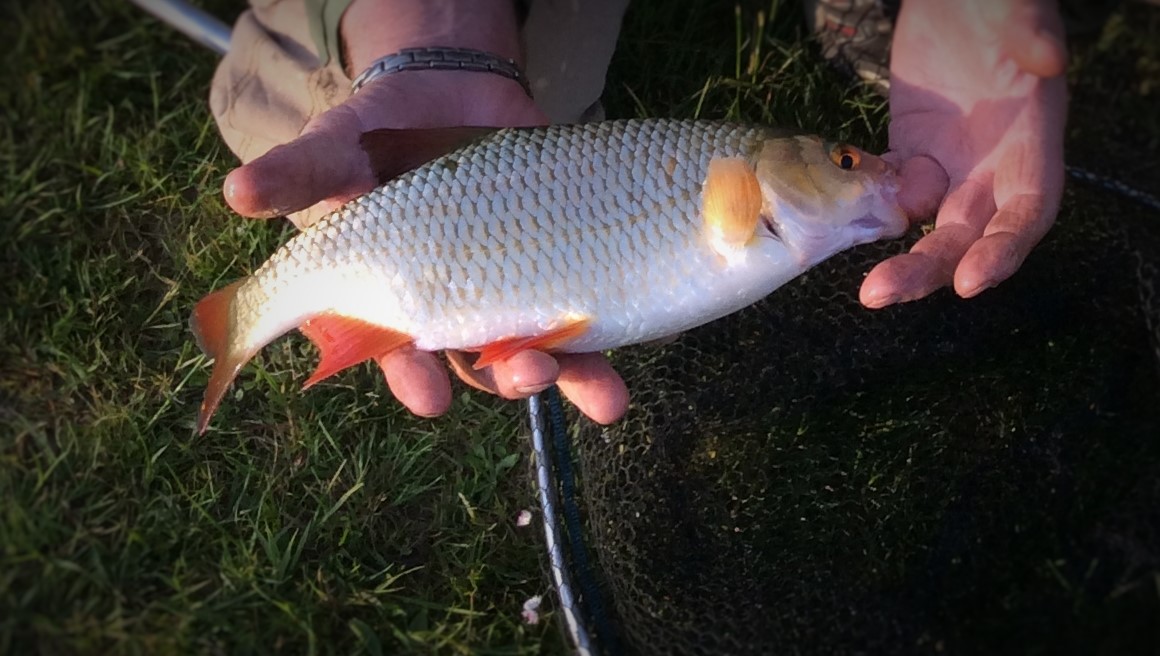 I caught this one on a bit of luncheon meat close to the bank using a waggler float.
20.05.2015.
Top lake today several perch caught. It is surprising at how often these are now being caught. A pleasure angler had four today that I am aware of, and yes they were all different fish. Mark caught some lovely carp from his usual spot on the bottom lake. Far end by the entrance to the woodland.
17.05.2015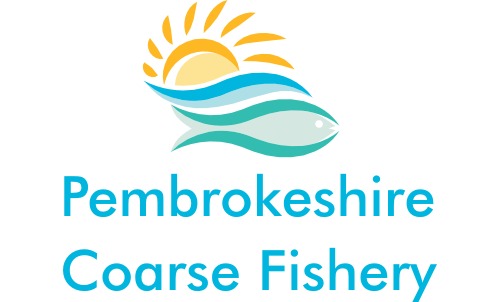 Excellent fishing at the moment. Todays match weights were. 1st 23 kilos, 2nd 21.5 kilos, 3rd 18.7 kilos. All angler weighed in and went away happy.
Garry Brumby caught a beauty from the top lake on the 16.05.2015. a stunning 16lb 6 oz common carp. He and his wife caught several others of various sizes.
Top baits are pellets, luncheon meat, floating dog biscuit, it also helps to have some loose feed pellets to hand.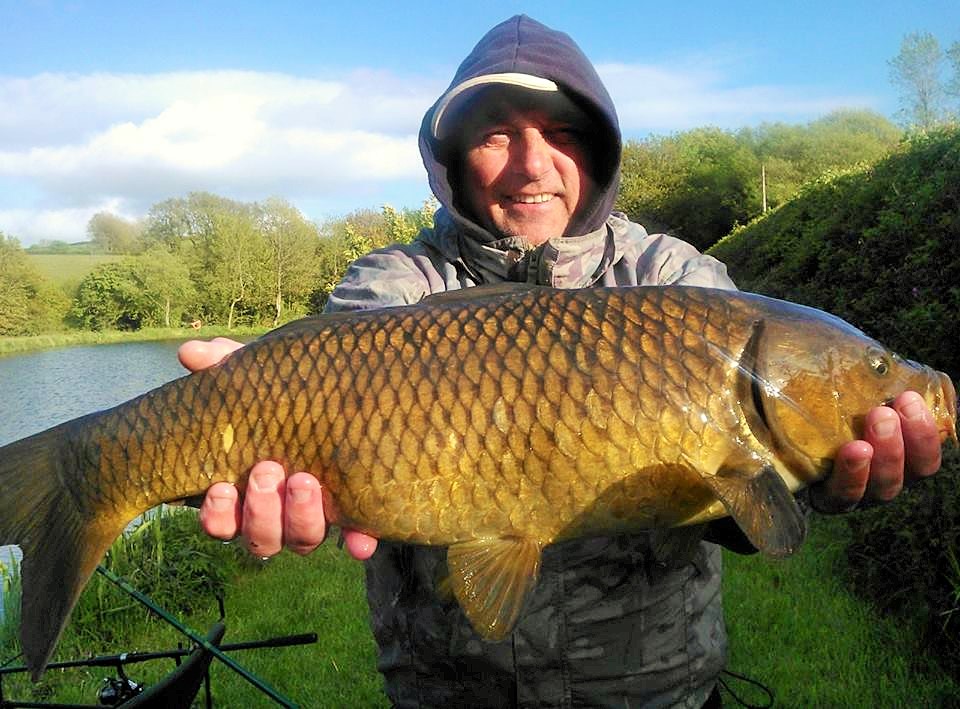 07.05.2015
Good pleasure fishing on both lakes . Plenty of mid size carp up to 10lbs the bigger beasts are being very evasive. As usual the roach and rudd are being caught for those who fish for them and indeed some bigger roach taking carp baits.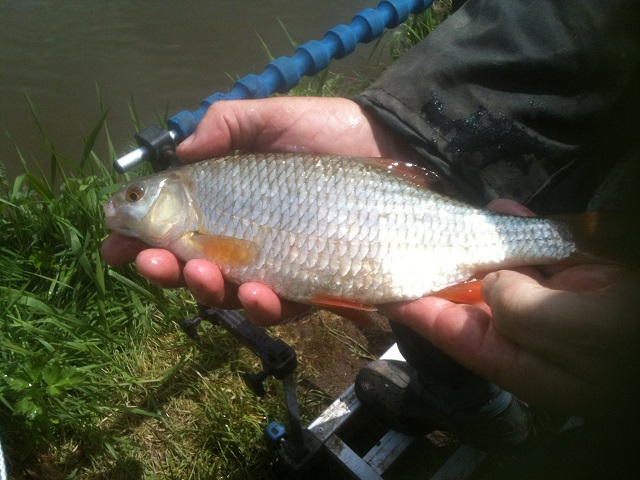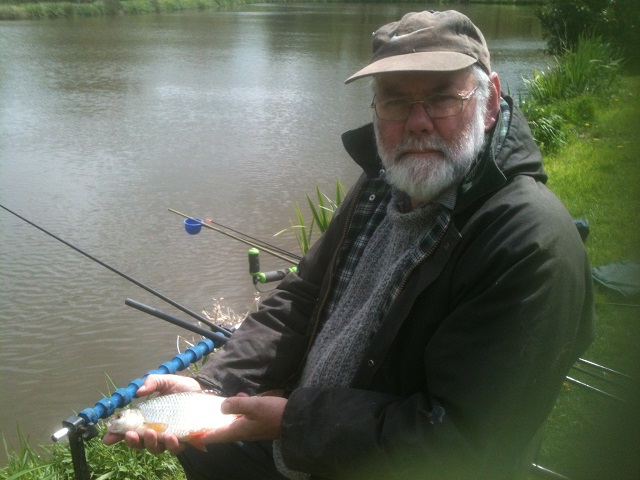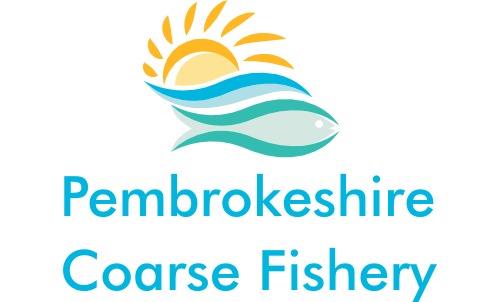 25.04.2015
I am sorry if these reports are not showing as up to date. Fasthosts who have taken over the hosting of this site clearly are not as fast as they should be!!!
The fishing over the last few weeks has been exceptional with numerous carp been caught from both lakes.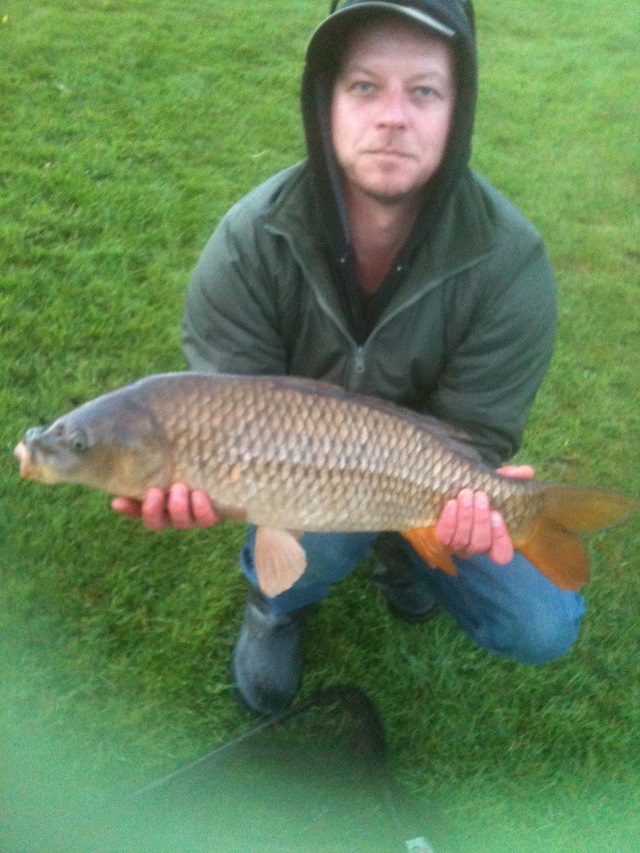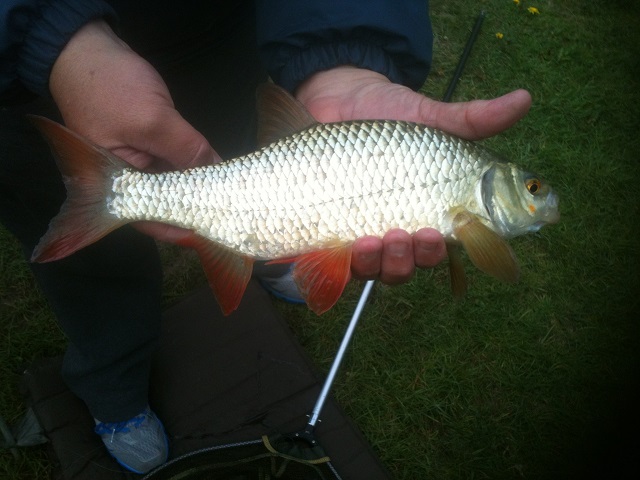 Best Roach of the week.
13.04.2015
Plenty of fish caught again over the weekend, Top Angler was Terry with nine carp in total .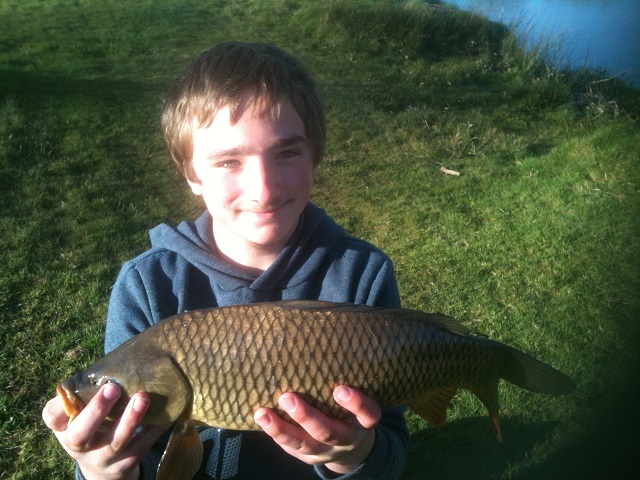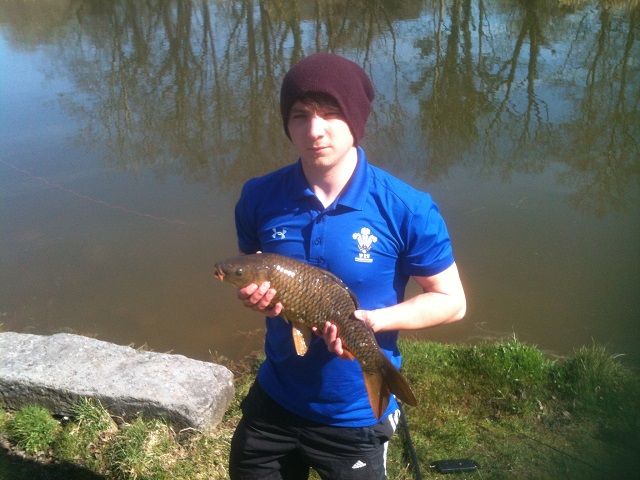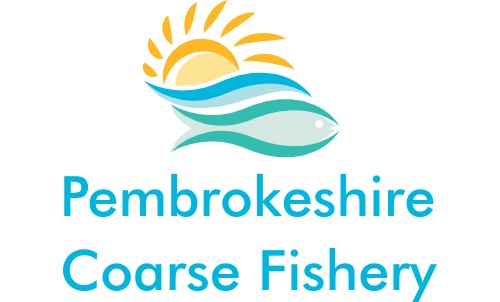 10.04.2015
Paul Wilkinson while caught this common carp on a floating dog biscuit, one of nine carp taken during a day session on the bottom lake.
In general there has been some excellent fishing and the carp now starting to feed readily after the winter period. This is not unusual as the weather gets warmer. This was also evident on Easter Sunday when the Pembrokeshire Piscatorials had their first match of this year at Llyn Carfan. Mark Close won the match with 18 kilos of carp.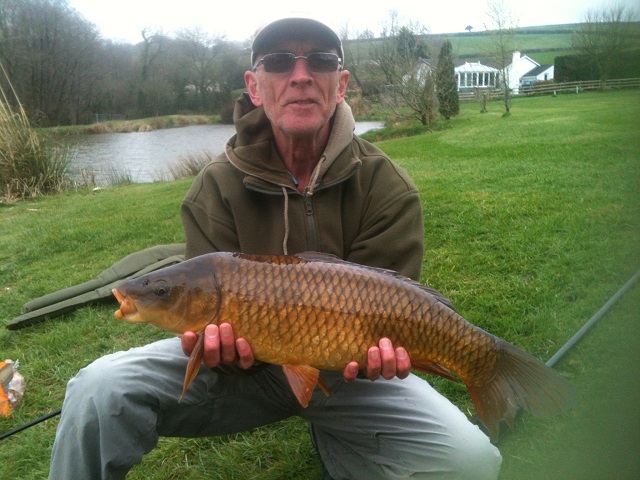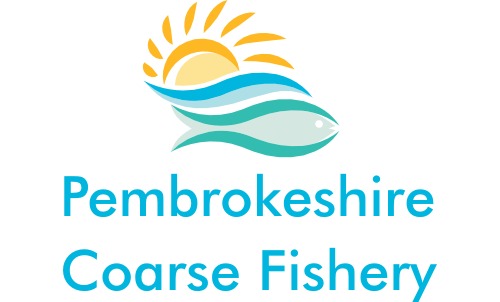 06.04.2015
Good match yesterday they had a slow start due to a sharp early morning frost. As the day progressed it started to fish well and carp bags won the day.
Weekend in general has been good with both lakes producing good catch returns. Paul Wilkinson took the best from the top lake at 14 lbs.9 ozs