Pembrokeshire Coarse Fishery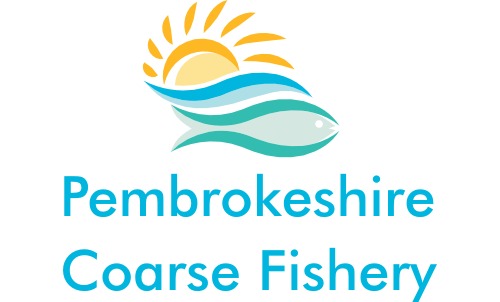 27.08.2019
Below is an extract from Facebook. Steffan had decided to visit the fishery following my recent post about fly fishing for carp. As you can see in his post it was a very successful day out.
"Steffan Jones recommends Pembrokeshire Coarse fishing.
25 August at 20:14
Another enjoyable day chasing carp. This time it was Pembrokeshire Coarse fishing that welcomed a fly angler. A few silverfish to begin with on a beetle pattern - they were drowning it before the carp could get near 🙈 back to the drawingboard. Then an absolutely obscene amount of carp on blobs and biscuit immitations. So much sport on such hard fighting fish that I managed to blow my rod up! If I were a rod, that's how I would want to go! 😂 A big thanks and shout out to Jamie Sandford for his tips 😎🤘🏼"
There has been a number of excellent catches using more traditional methods since my last post and both lakes continue to fish well.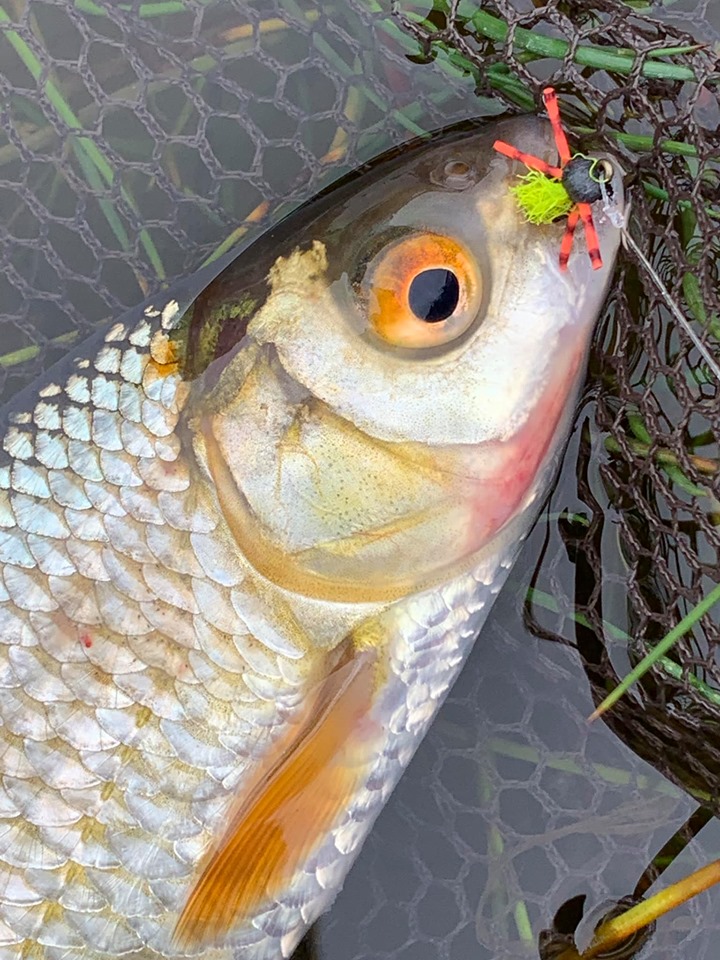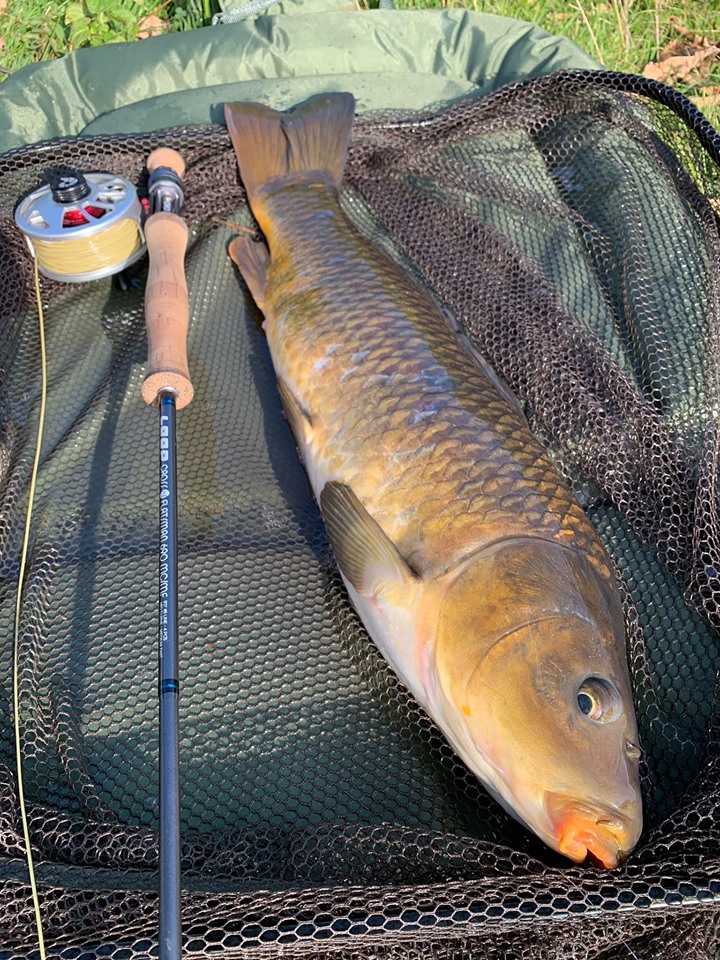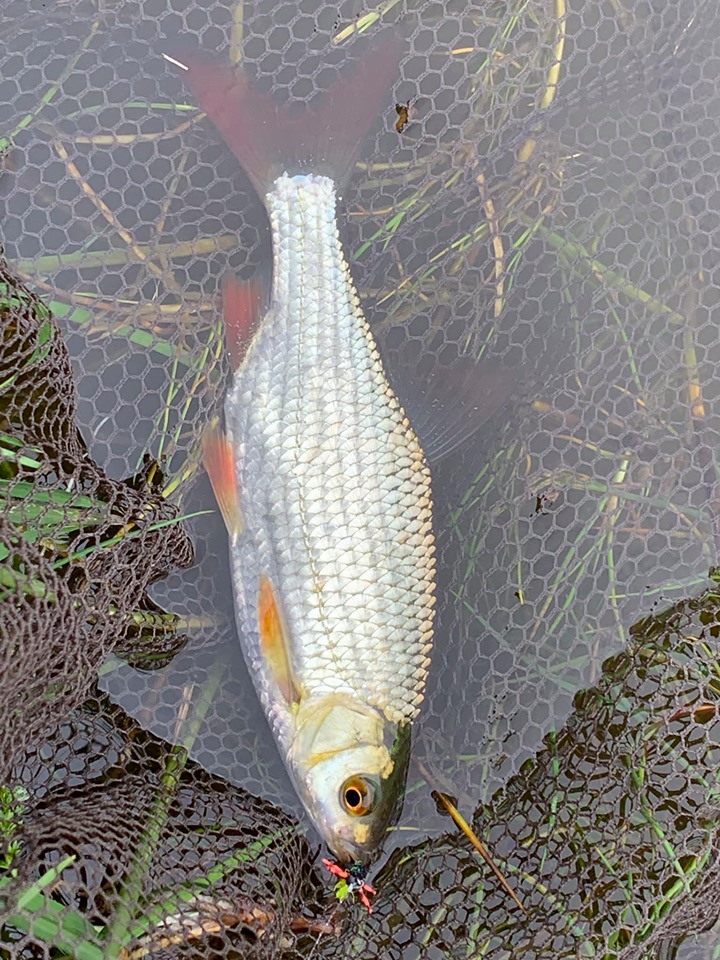 16.08.2019
I have seen carp caught by fly at the fishery although several anglers will use floating baits as opposed to flies when using a fly rod. One such angler took over 20 carp in a single day last week. Both lakes continue to fishexceptionally well with all anglers reporting good catches.
Come along and give it a go both lakes are ideally suited for using a fly rod and fly as there is open banks to work from.
This picture was taken from the Sportfish blog/newsletter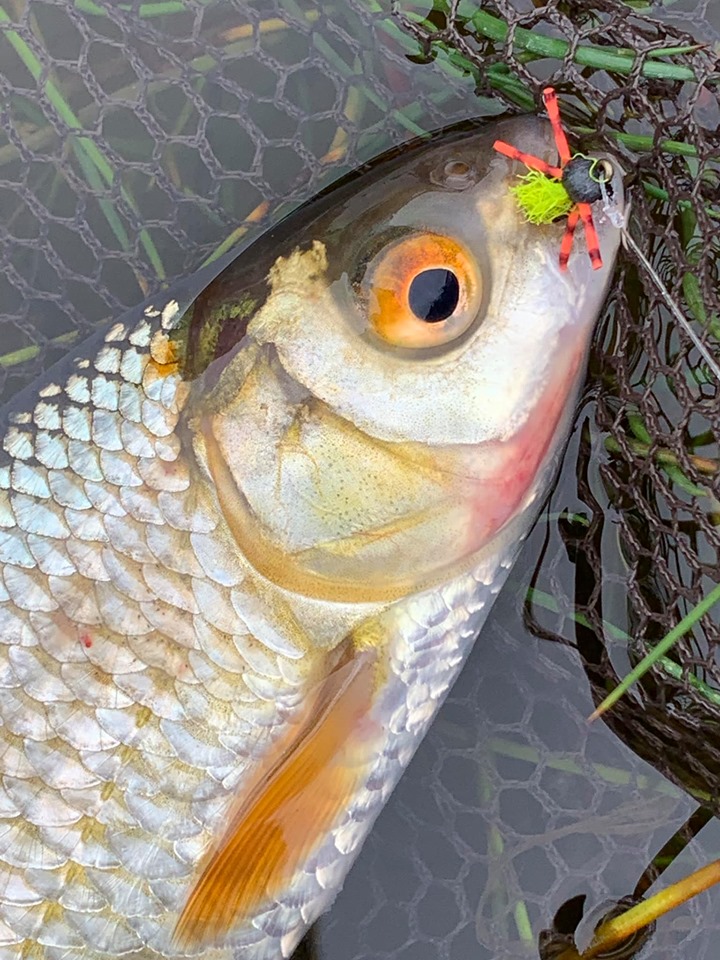 05.08.2019
Jonathan was again triumphant in the July match, but this time by just 200 grammes weighing in with17.4 kilos in a match where all bar one of the contestants weighed in with bags of over 10 kilos.
During the whole of July, anglers have been enjoying good catches from both lakes the traditional wild carp are in excellent condition at this time of year giving anglers a lot of sport. Those using lighter tackle are more productive but it requires skill to land the fish particularly if your fishing near the lily beds. It has been a pleasure to see some young anglers trying angling for the first time. The two boys in the photograph had never been fishing before but with some expert advice from the fishery owner, they were soon on their way catching the smaller carp.
The abundance of bird and wildlife that surrounds this fishery is another reason to visit Pembrokeshire Coarse Fishery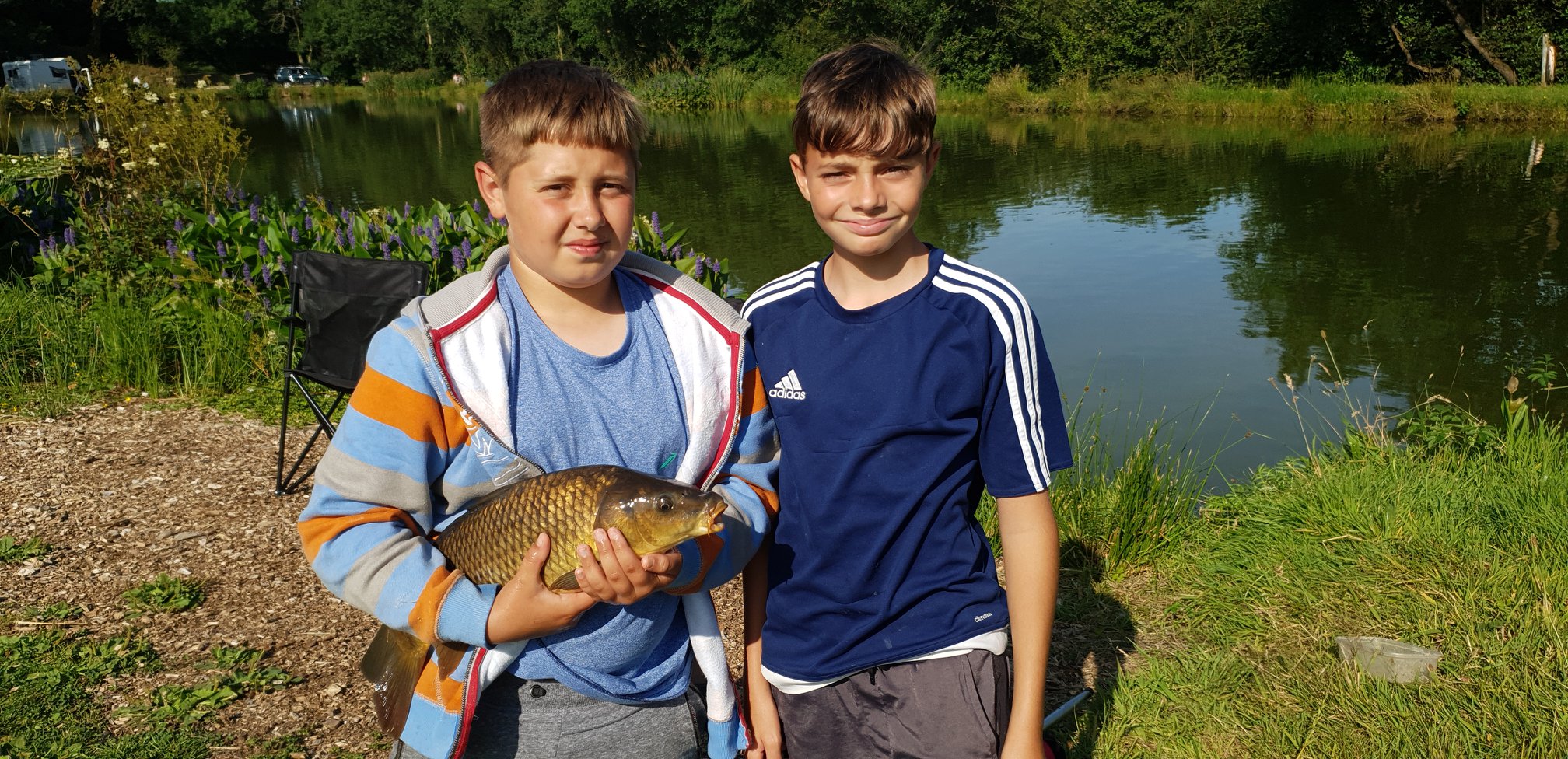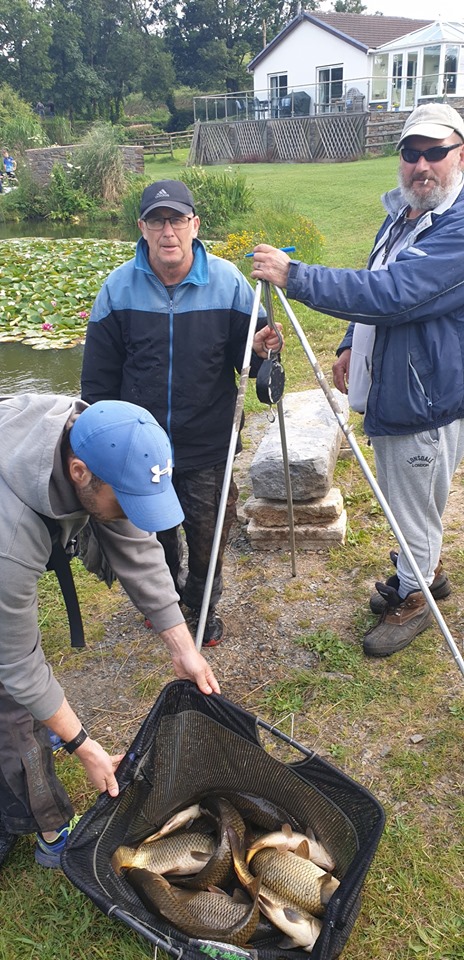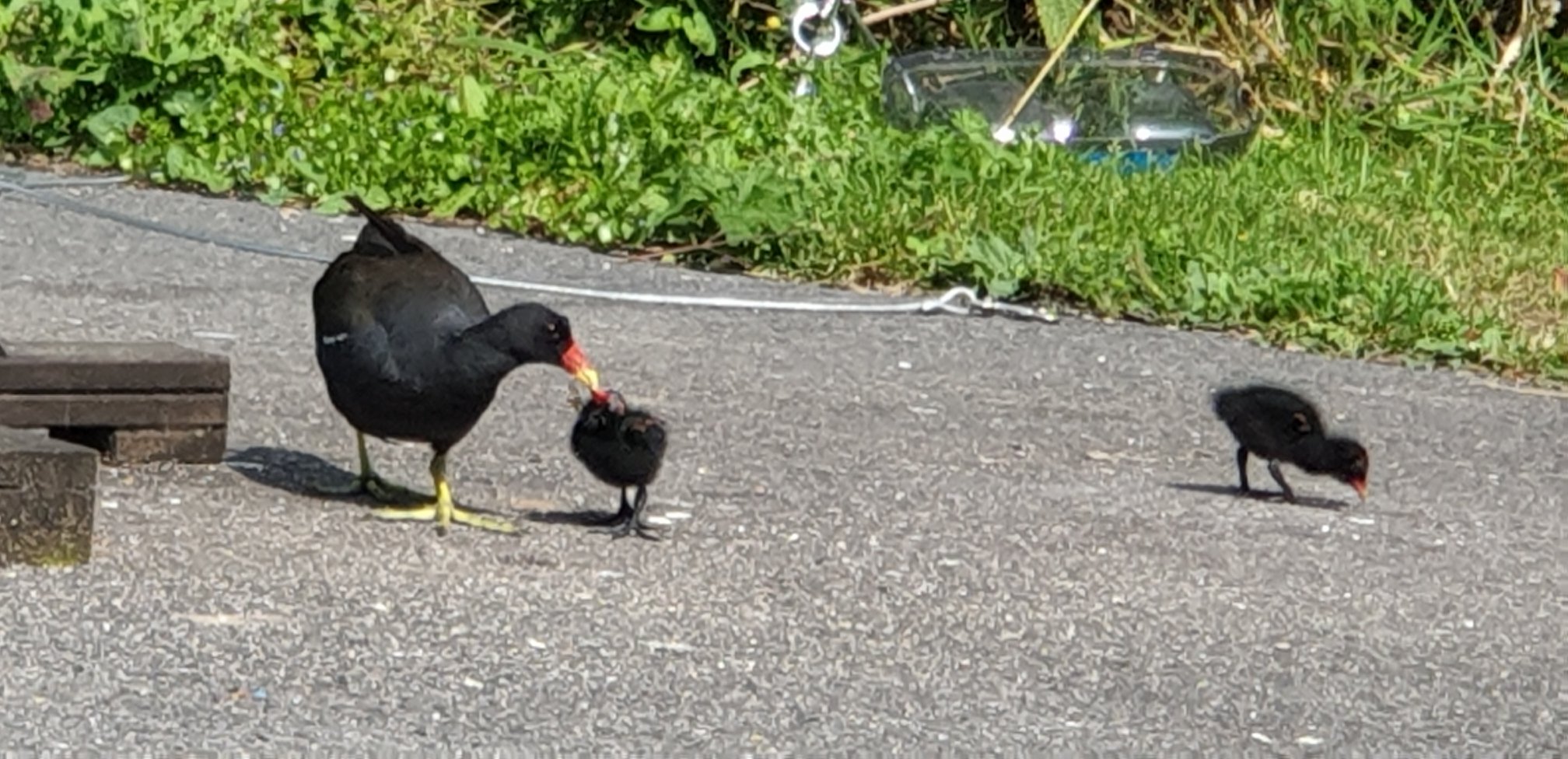 17.07.2019

The fishing has been excellent over the last few weeks carp are feeding well and the silvers are plentiful. Maggots are an useful bait to have but be warned, during the recent hot summer weather they can also attract shoals of the smaller fish into the swim. This is not a bad thing as the larger roach, rudd and carp will also follow but you will need to use bigger and possibly a harder bait to avoid the small ones getting to it first.
The pictures are of Charlie on a visit from London to visit his Granddad having another excellent day at the fishery.
Best carp from the last couple of weeks was caught by Dave on a night stint who took a common of 19lbs +
.
There will be a Pembrokeshire Piscatorial match on the bottom lake this Sunday 21st July . Top lake will be open to the public as normal.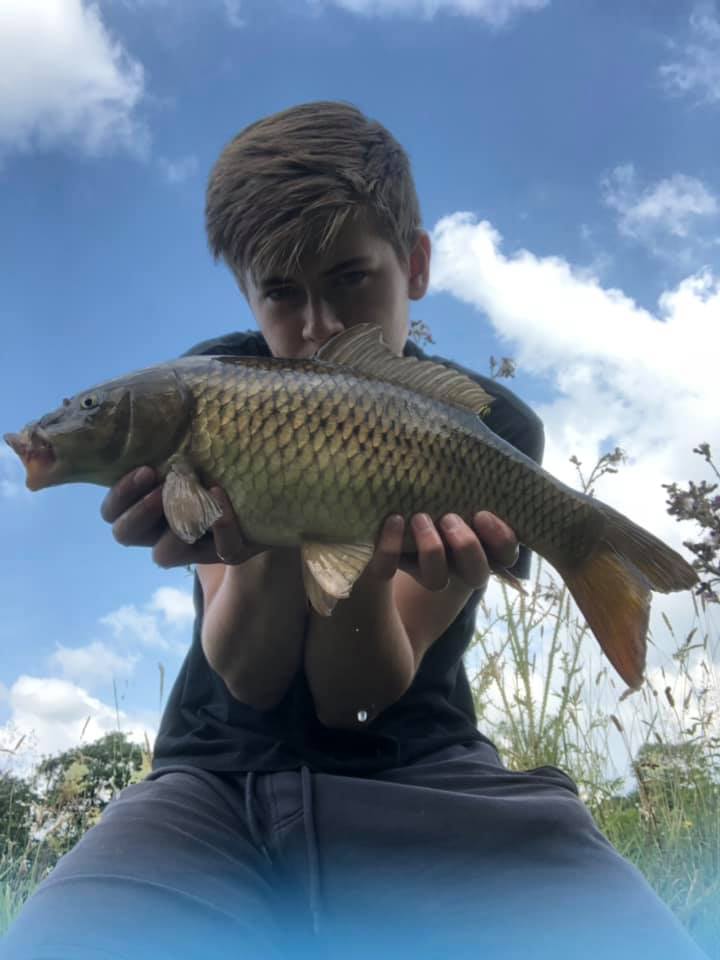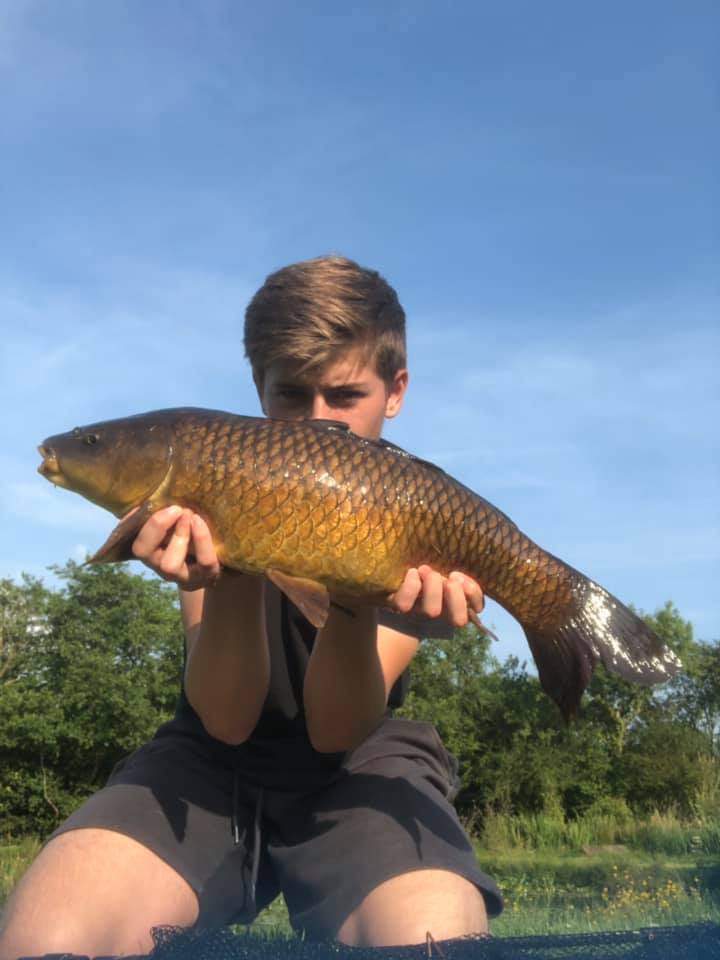 30.06.2019

Excellent fishing over the past two weeks with plenty of carp being caught. Marc who did a couple of 24 hour stints was kept busy all night on both occasions , his largest carp was 13.5 lbs and as these are genuine wild carp he had a battle on his hands to land it. As normal at thsi fishery the roach and rudd are plentiful with some very decent size fish being caught. Perch are now beng l;anded on teh top lake of 2.5lb plus.
If your staying in the south of Pembrokeshire and require some bait or additional tackle J&Ms tackle at Pembroke Dock will be able to sort you out.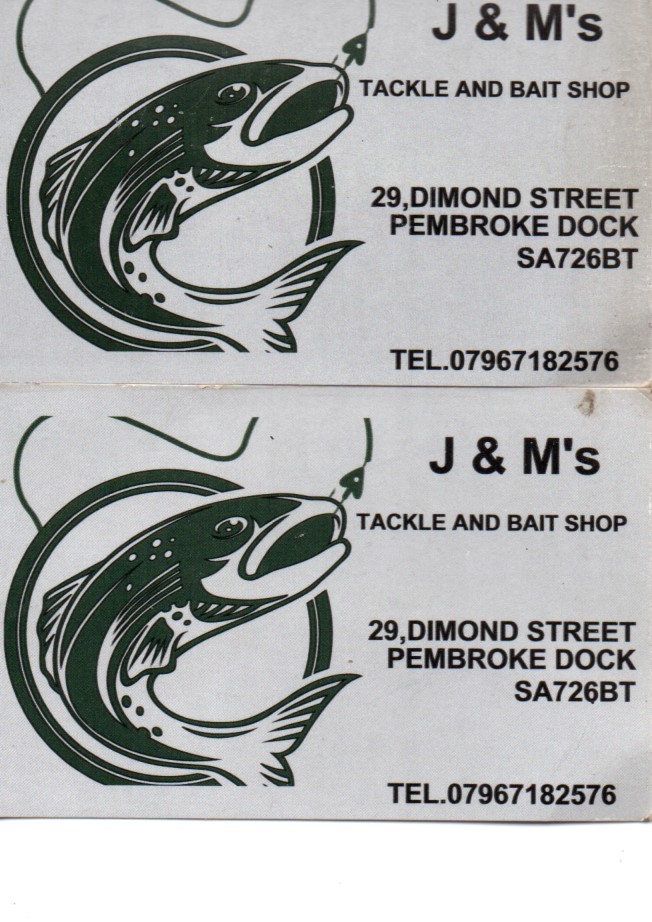 16.06.2019

A night fishing session was successful for two recent anglers with a busy night 17 carp in total. Given that the weather was not behaving and they had heavy rain through most of the night, the tactic of feeding an area earlier in the evening and using a mixture of hook baits , certainly worked on this occasion. Other anglers are reporting good fishing, all are impressed with the quailty and fight these naturally bred wild carp are producing.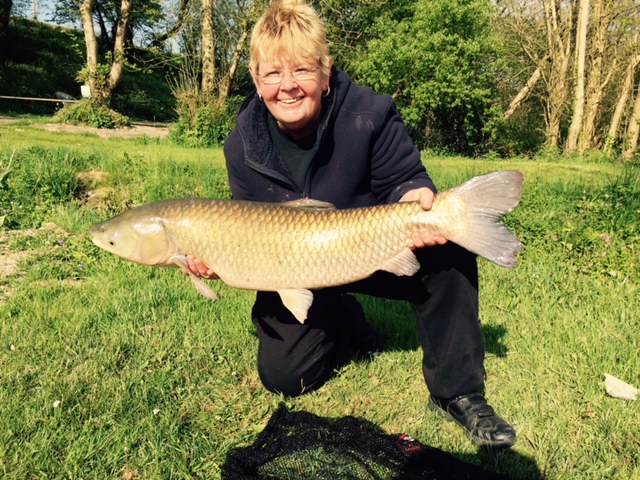 A recent report placed on Facebook by Brett who fished a recent Pembrokeshire Piscatorial club Match at this venue.
Pembrokeshire Coarse Fishery today for a club match
Drew peg 4, not bad peg water in front of me bank either side of me and slope behind so thought it best to fish in the water, it did look like that's where the fish will be.
I set up 3 lines.
1.Asda washing line and Sainsbury's bent pin no 6 hook
2. Some other line with a bent metal thing
3. Definitely more rope with size summit hook.
I started off slow rain was pouring wind was blowing fish were swimming just nowhere near my bait. So I decided to go with the Asda washing line and bent pin on the inside where I pretty much caught all my swimmy things giving me a total of
11kg 4g and 2nd place and in the money (yes Chris Kidd you heard right 2nd)
One thing I will say is DO NOT USE MIDY HIVIZ LINE ITS SHIT lost 2 floats and good fish because of snap ups.
(Huw say's, to be fair we do have hard fighting wild carp here so maybe it was not the line but decent fish?)
Although angling is not all about catching fish or competitions.The natural surroundings and additional wildlife and bird song can also be enjoyed and is something this fishery has in abundance. Watching a busy bee enjoying feeding from a foxglove is a true moment of mindfulness.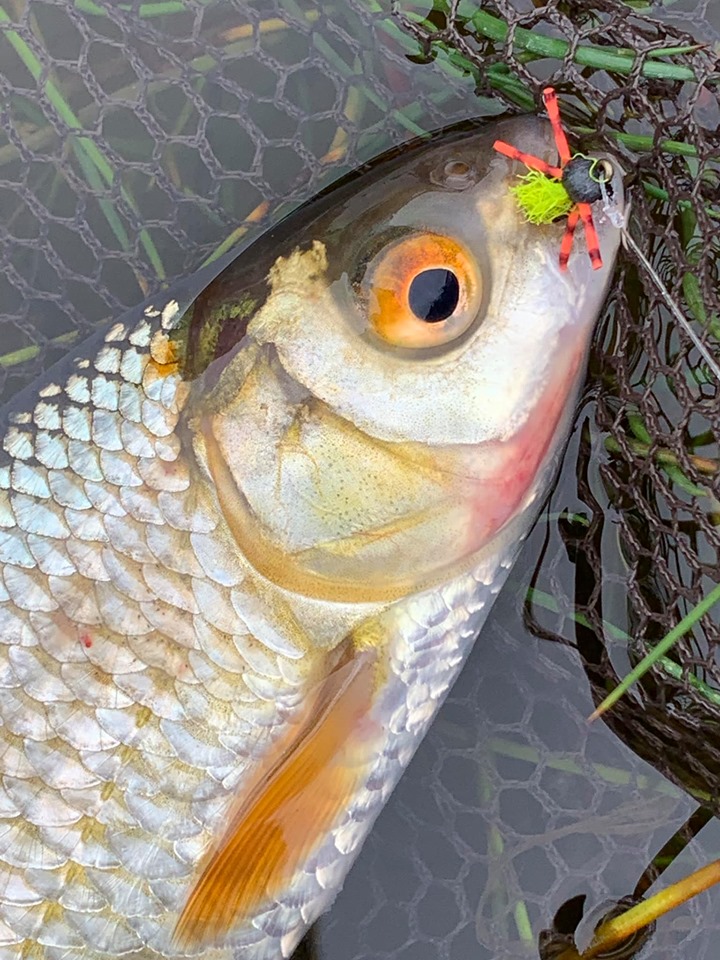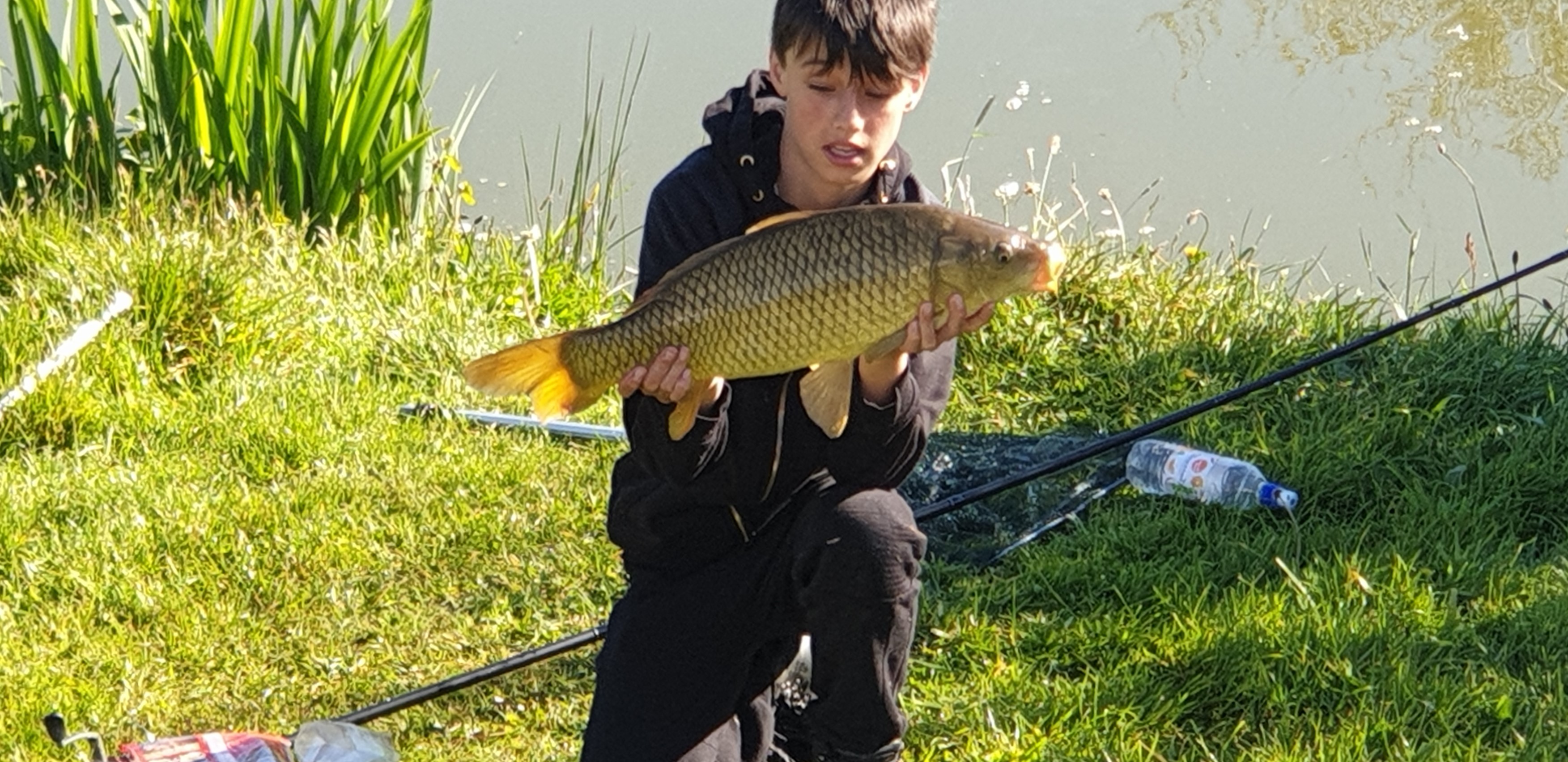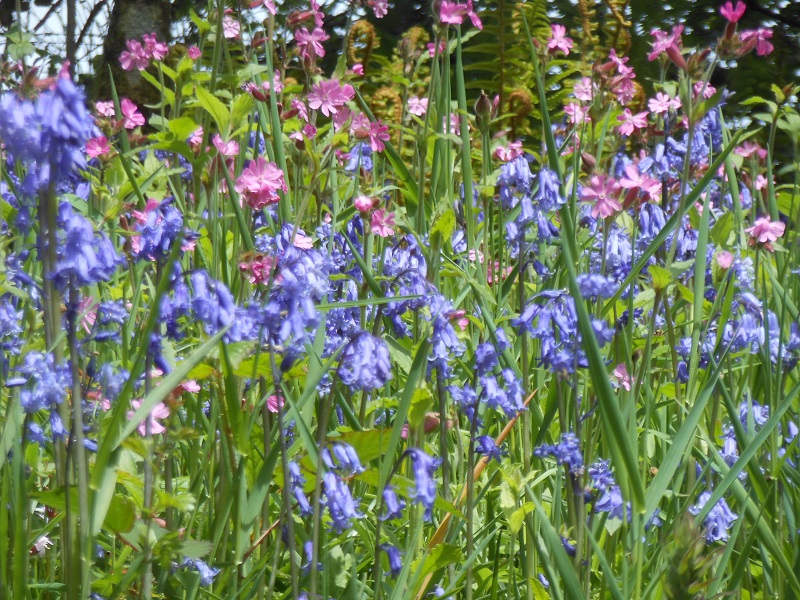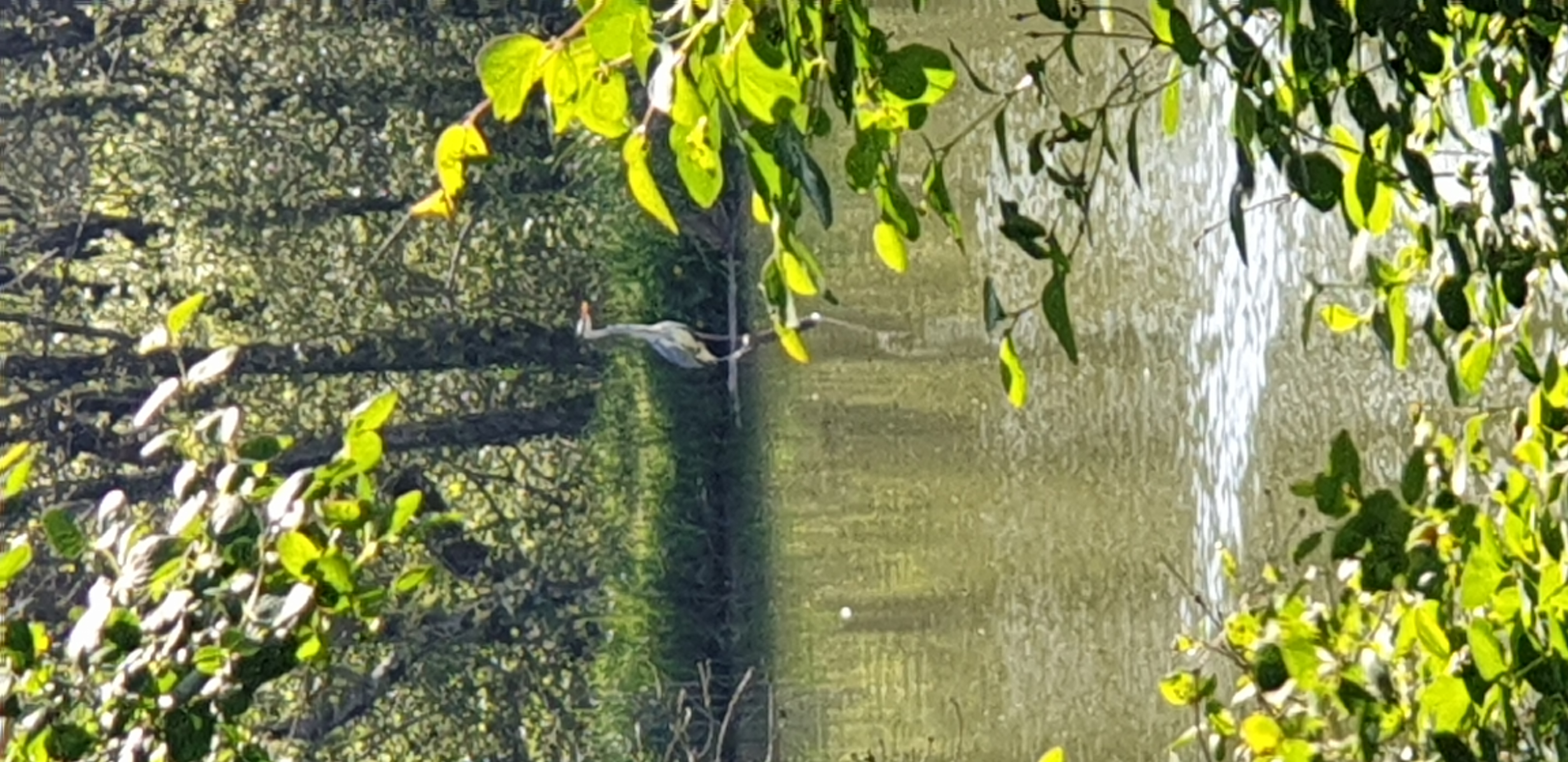 20.05.2019

he Fishing over the past month has been very good on the whole with good numbers of carp being caught up to 15lbs. Plenty of silvers showing where large bags could be produced. What has been far more temperamental with practically every season rolled into the month, well ok it did not snow but!
Carp are starting to spawn but that did not stop Trish catching 25 on Saturday during fairly warm sunny conditions. Some were taken on floating dog biscuit others using a float with not to much weight attached just enough to cock the float and sink the bait . The woodland is looking at it's best with blue bells in full bloom and lots of bird song to admire.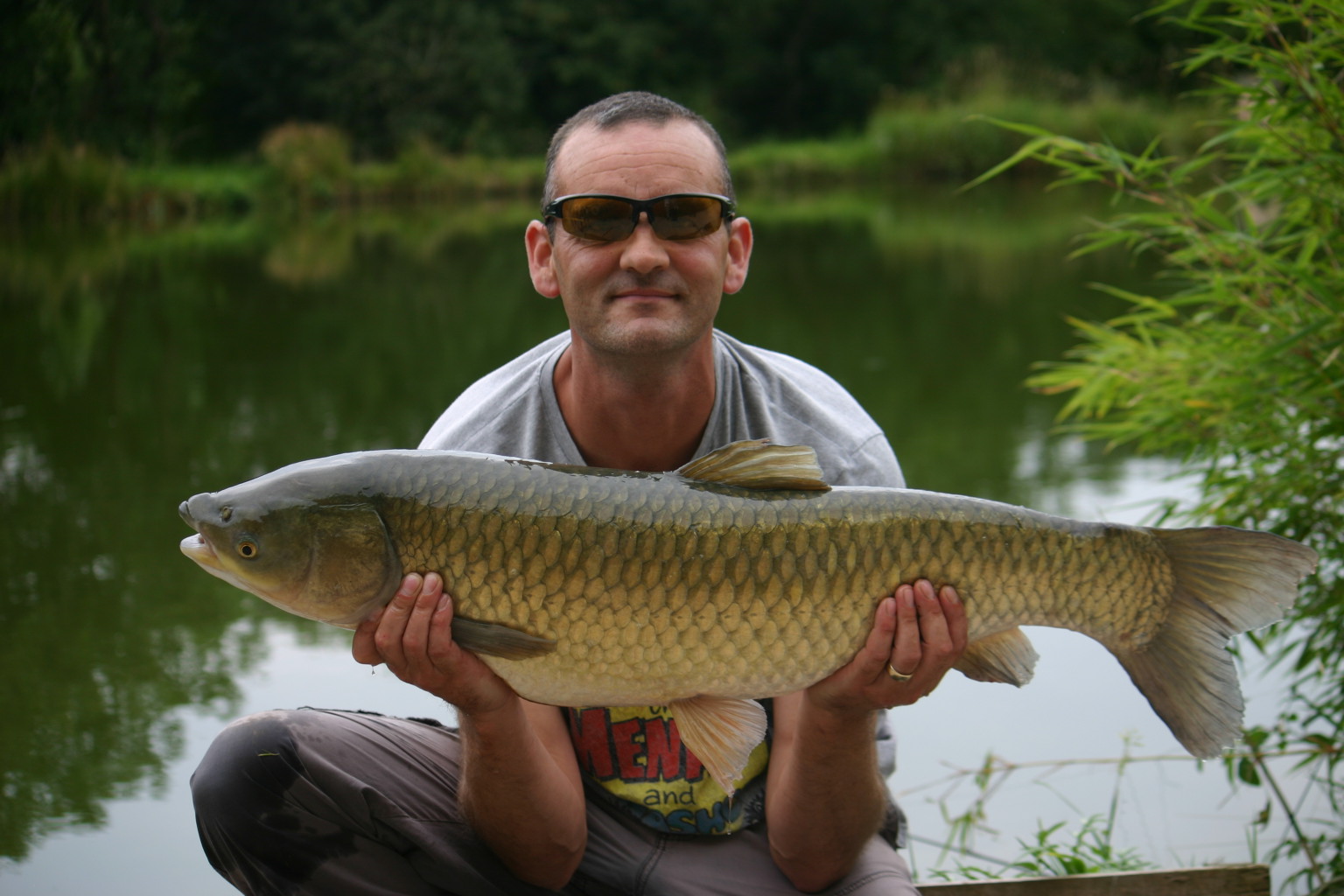 14.04.2019
The Pembrokeshire Piscatorial match anglers braved a very cold wind here today, but their efforts were well rewarded with over a 100 kilos of fish caught by just 6 anglers. Jonathan led the way with 34. kilos Ken pushed him hard with just under 30 kilos. As usual, all the fish were in excellent condition and were still feeding and being caught right up to the end of the match.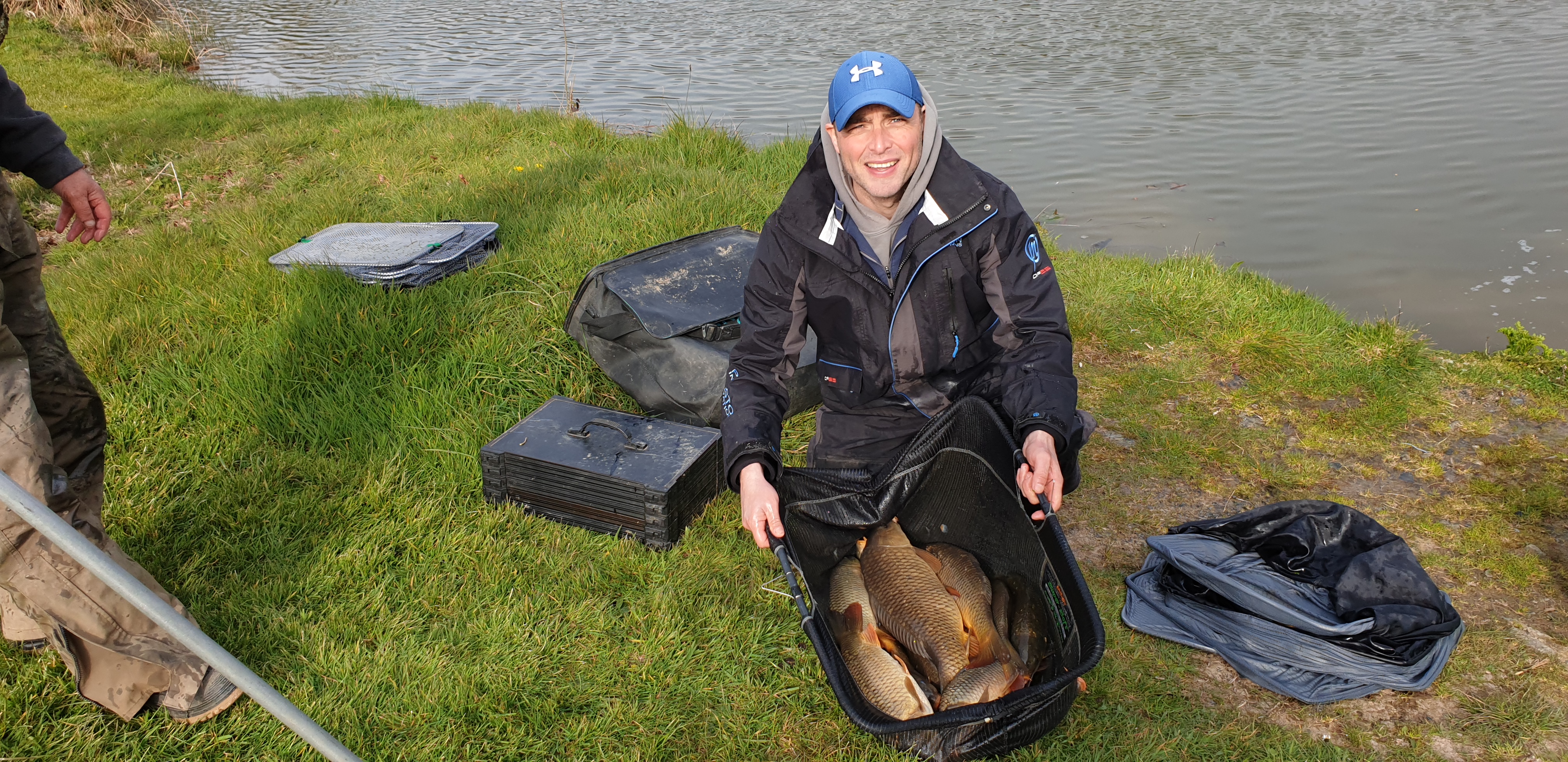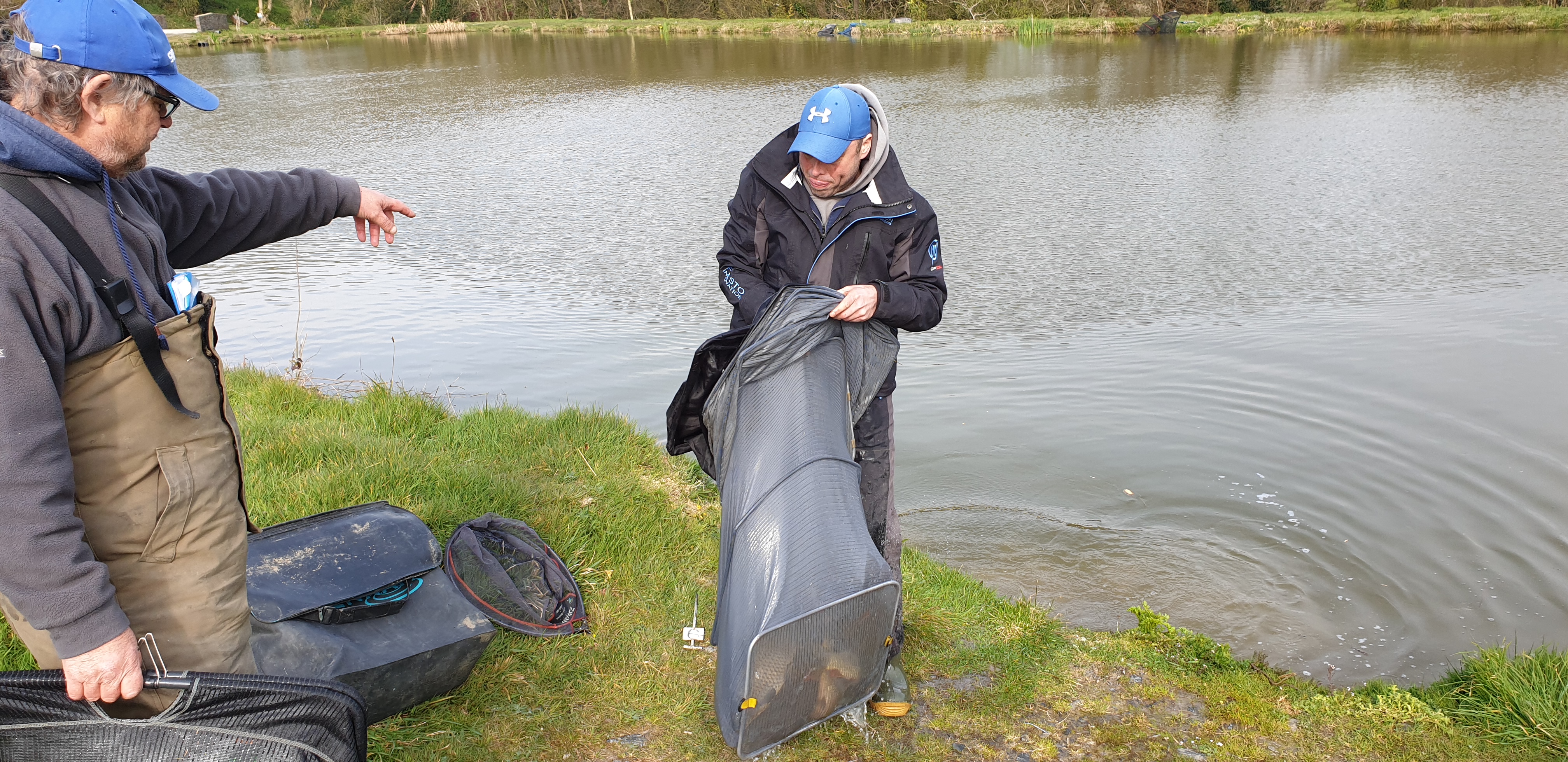 25.03.2019

Early spring has encouraged the fish to feed and all species are being caught in good numbers. Malcolm and Spence down from Liverpool for a few days had a brilliant first day over 20 wild carp between them, up to 12lbs. Colin caught this lovely perch from the bottom lake on Friday. The gentleman in the photograph with the carp caught four within the first 90 minutes of his first visit here this being one of the smaller ones. I think he will be back.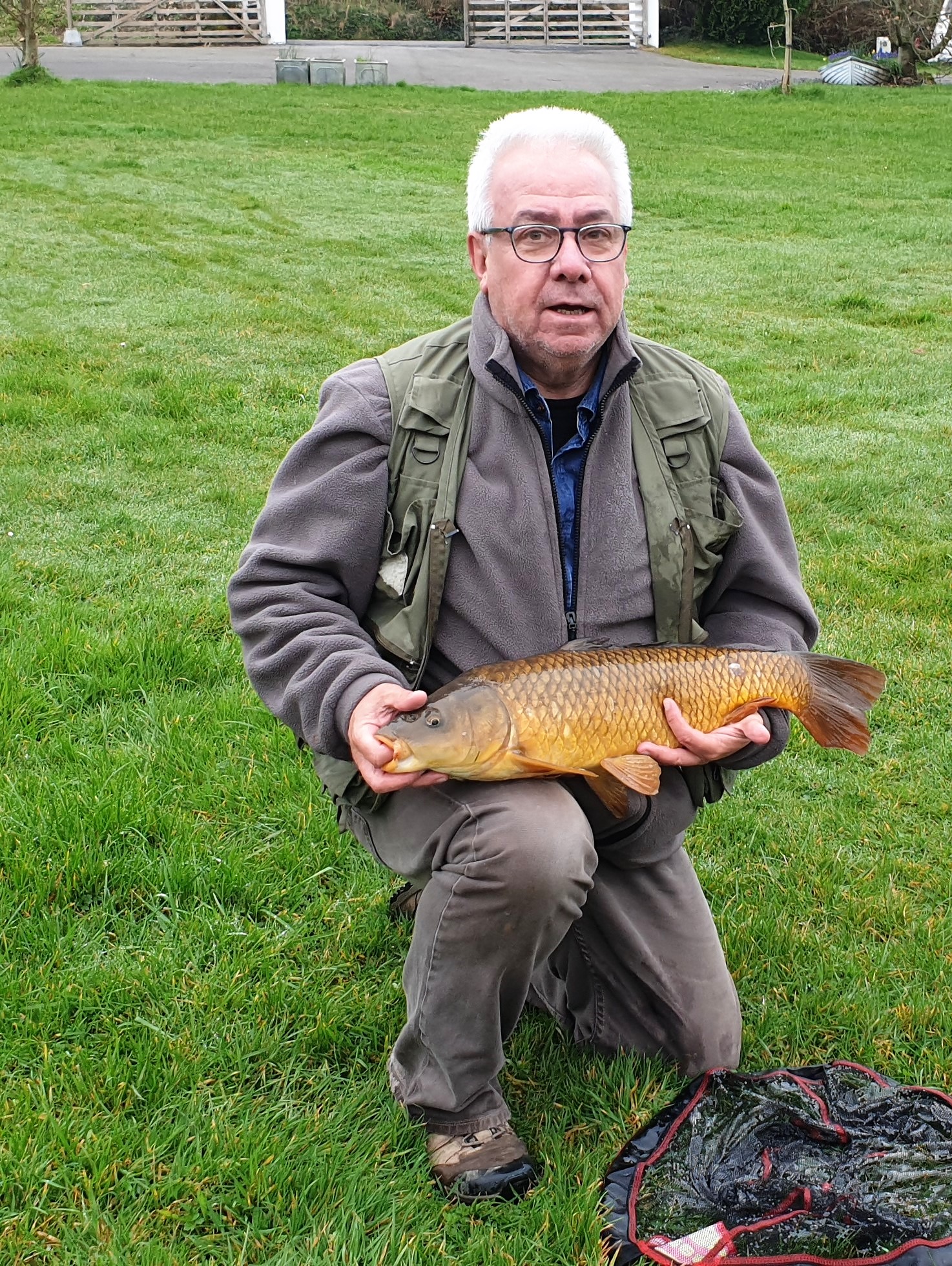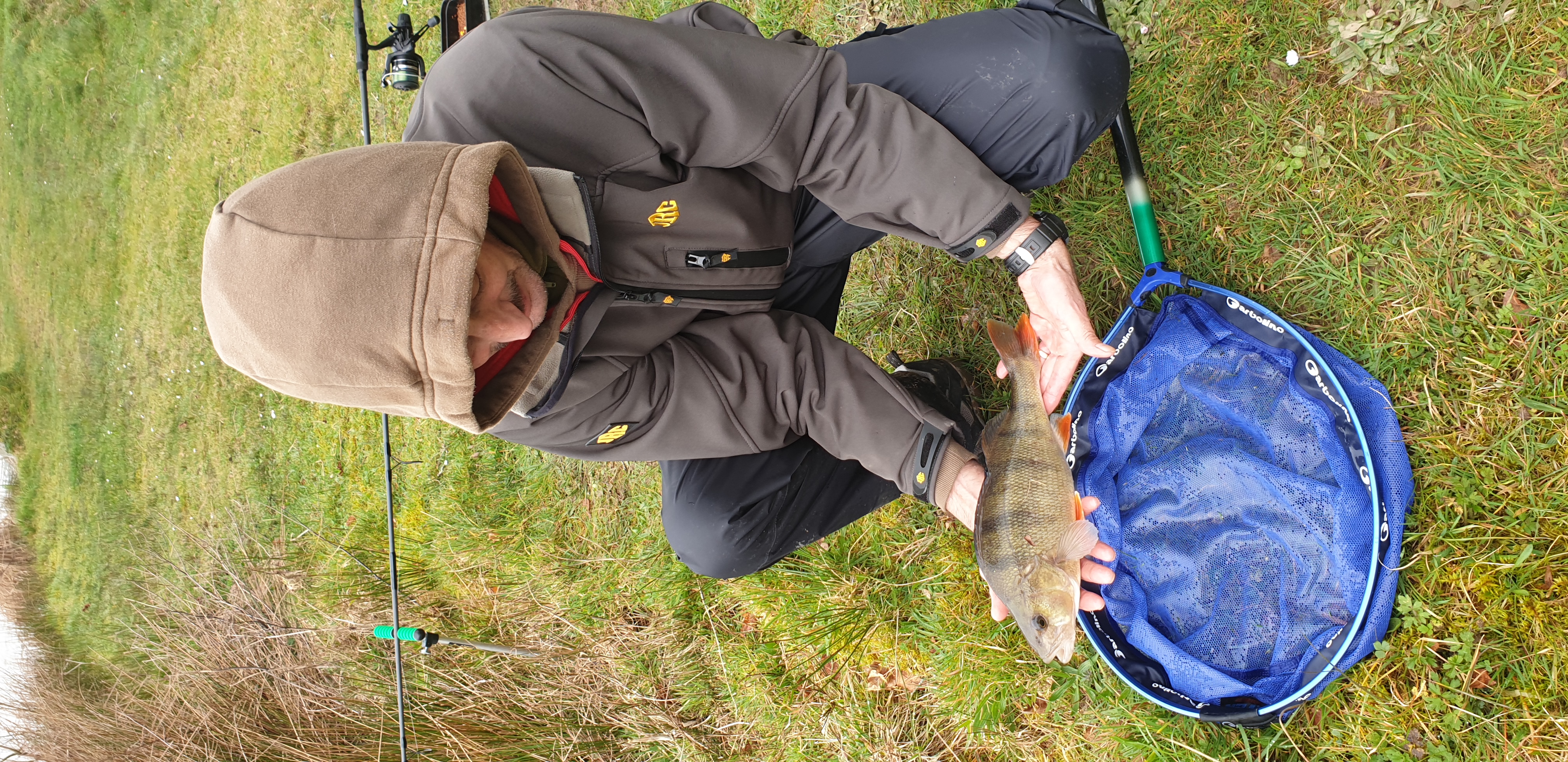 06.03.2019
The Pembrokeshire Piscatorioal match that was postponed due to the weather last week will be held this Sunday 100th March 2019, usual format those who are not fishing the match please use the top lake.
The carp are feeding well at the moment plenty of movment in the water so hopefully Sunday match anglers will have a great day.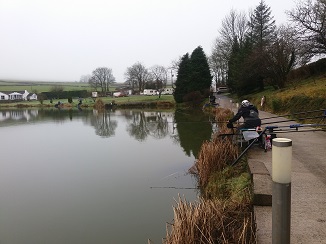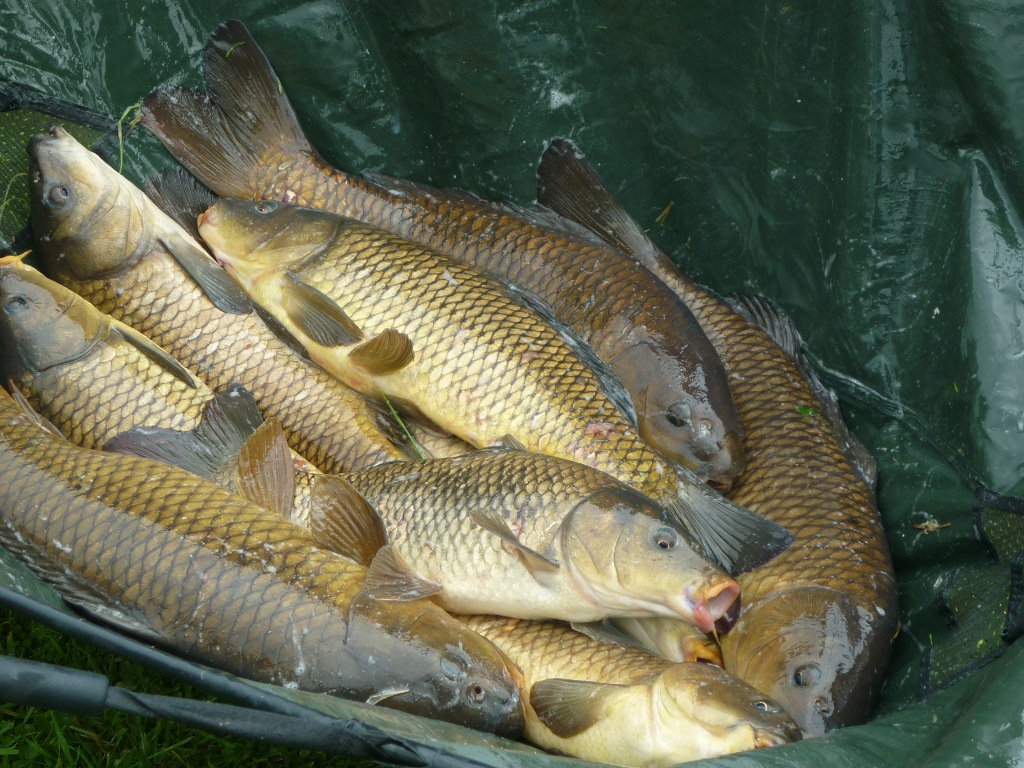 18.02.2019


t was a good day for two Swansea anglers. The both caught a double figure carp each withing the first hour of their Sunday session. The fishing remained good throughout the day, switching between using a pole and then a ledger rod while using a variety of baits paid dividends and both ended up with over 60lb of fish each.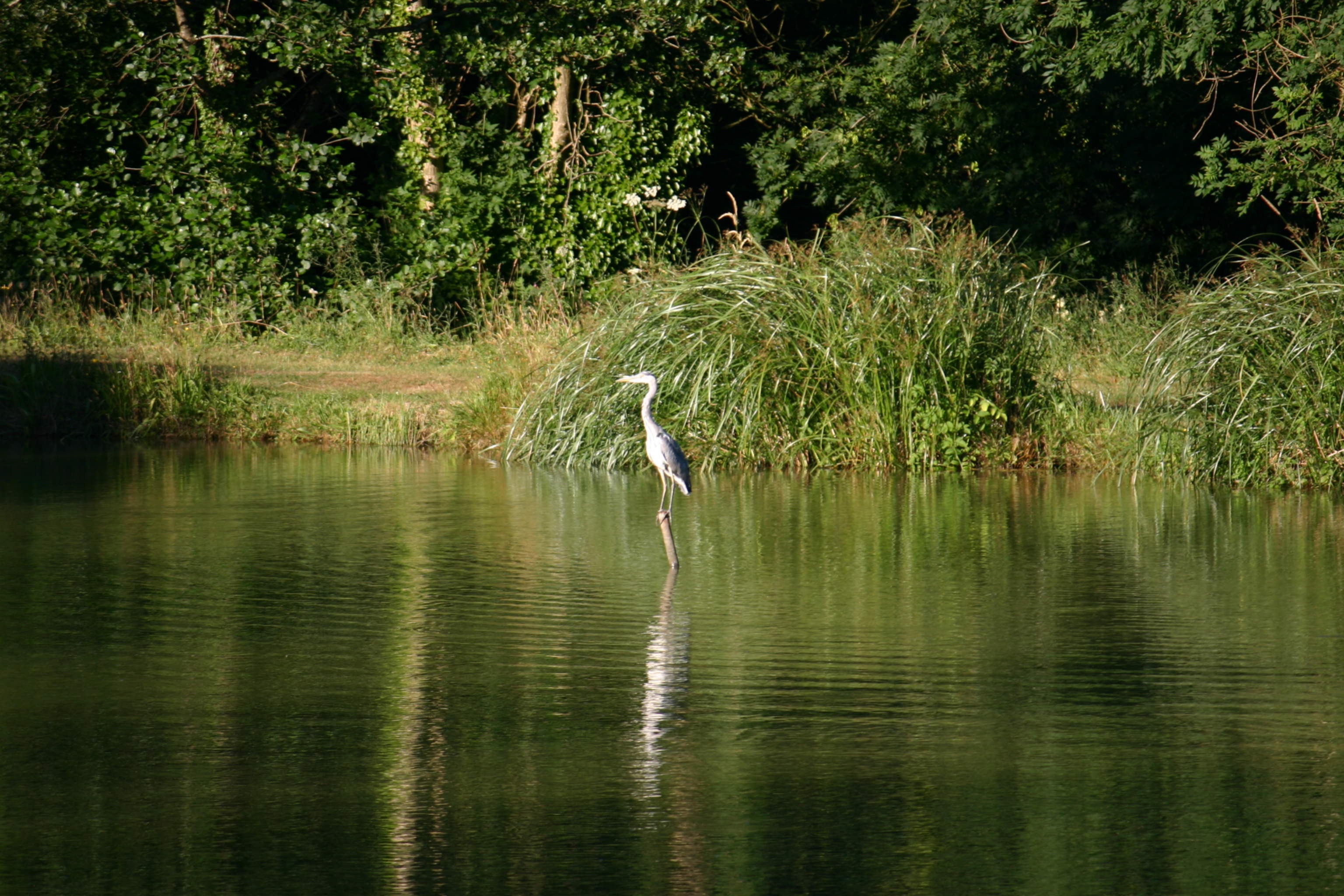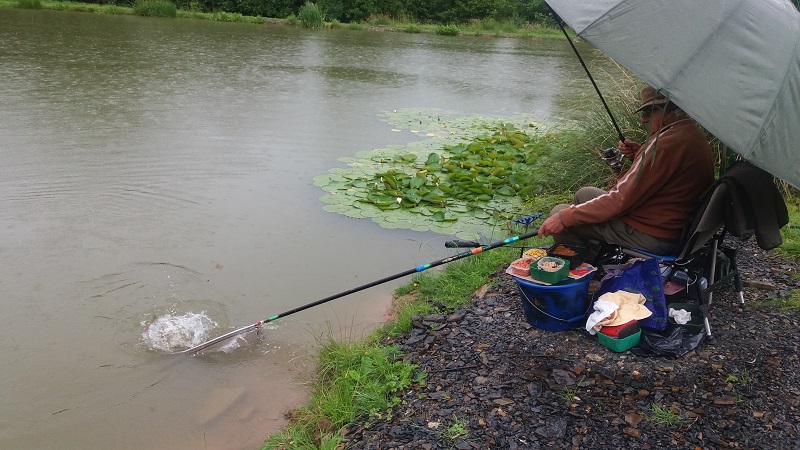 10.01.2019
Happy New year all. Some good fishing at the moment. Weather has been kind to us over the festive season. All species of fish being caught and the wayward perch who found their way into the top lake are certainly putting on the weight a few have been caught recently at 2.5lbs . Next Pembrokeshire Piscatorial Match will be on Sunday 20th
Also some interesing wild life about at this time of year!